Upcoming in 2019

Al Razutis' classic avant-garde film LUMIERE'S TRAIN (ARRIVING AT THE STATION is being screened on April 24th, 2019 at Musée d'Art moderne André Malraux, Le Havre, France Programming structure: Musée d'Art moderne André Malraux.

2 min. 35 sec. excerpt from this film is at EXCERPT - LUMIERE'S TRAIN on YouTube.
Ongoing: Holographic Motion-Picture History available for exhibitions
Sharon McCormack Collection and Archives @ Visual Alchemy
Sharon McCormack Collection and Archives features histories of San Francisco and west-coast holographics and pioneering efforts, remarkable works which changed the way holography and holographic displays were seen around the world.
Al Razutis and is available for exhibition and leases / rentals in groups of works or as individual items.
Holographic Art by Al Razutis Priced for 2019

Holographic art by Al Razutis - productions by Al Razutis with many pages of the dense history of this work as it developed over four plus decades.
Now Playing on YouTube
Al Razutis went to Burning Man 2015 and filmed the art, people, and various creations and events in a spontaneous setting and documented this world-famous 'anarchist art event'. These films are being released in 2018 - 2019 as a number of stereoscopic 3D experimental films by Razutis, with music and soundscapes by Gary Courtland-Miles. 2018 RELEASE: SCENES FROM BURNING MAN 2015 (13 min., standard viewing on YOUTUBE)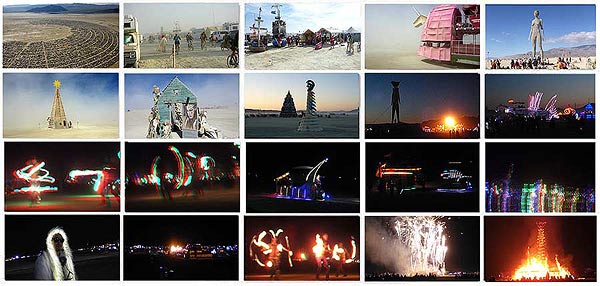 Vol. 4 - West-Coast Artists in stereoscopic 3D
3D Video documentary on west-coast U.S., Canadian holographic artists
Produced and Directed by Al Razutis
Volume 4 continues the 'West-Coast Artists In Light' project in two important aspects: documenting the continuing works of Al Razutis, the last remaining practicing west-coast Canadian holographer and the guy who brought holographic art to Canada in the first place, plus the new research and documentation of the Sharon McCormack Collection and Archives. In this stereoscopic 3D volume the works of Al Razutis and Sharon McCormack, Multiplex Company, SF School of Holography come to life in spatial 3D forms and videos!
---
Avant-Garde Films - No Expiry Date
New additions - rare films by Sam Perry on YouTube XALRAZUTIS CHANNEL



Page on Psychedelic Cinema - Sam Perry - 1960's
---
Short Film Excerpts from films by Al Razutis on YouTube XALRAZUTIS CHANNEL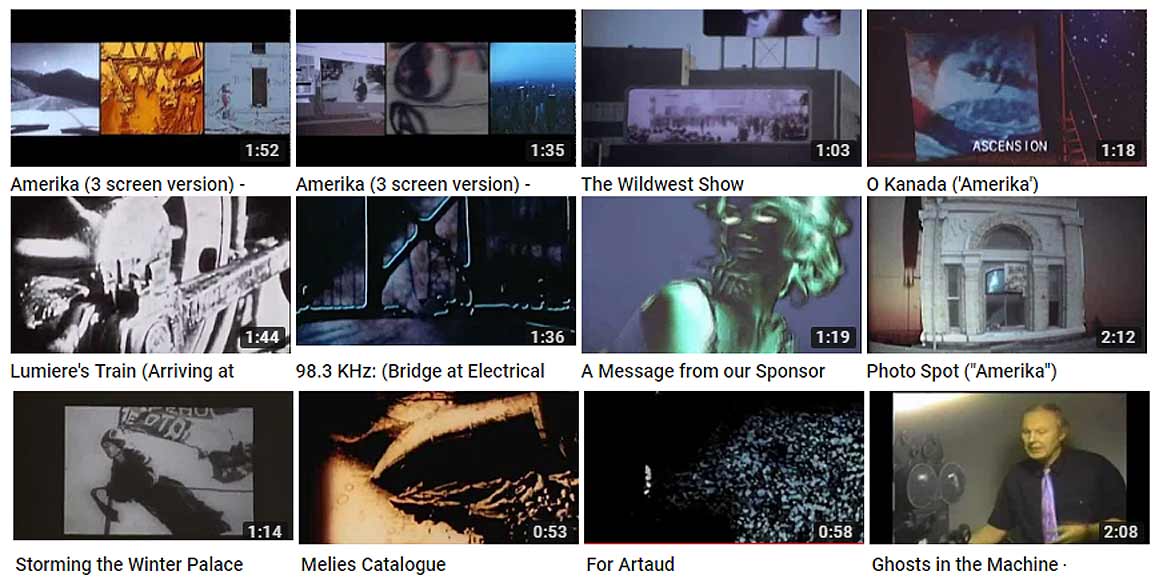 Some Razutis short films also can be found on Vimeo
---
Recent Screenings of films by Al Razutis:

Al Razutis' classic avant-garde film GHOST: IMAGE is being screened along with other experimental film works on November 19th at Festival Entrevue (Belfort) - 'SEANCE DE INTER-ACTION' programmed and presented by Sebastien Ronceray. 1 min. excerpt from this film is at EXCERPT - GHOST:IMAGE on YouTube.
'Visual Essays: Origins of Film" - March 5, 2018 Screening in Paris, France at Braquage

Méliès Catalogue screened by Braquage at Tolouse (ESAV), France, March 26, 2018.
'For Artaud' (Visual Essays) - January 25, 2018 Screening at BRAQUAGE 56 Rue De La Reunion 75020 Paris /Paris, France
The early film works continue to be exhibited and collected and featured in contemporary critical and historical writings. Originals and restored copies are housed at the Academy Film Archives, Hollywood, USA with thanks to Mark Toscano.
My 'classic' experimental short film 98.3 KHz: (Bridge at electrical storm is on the web, on VIMEO on FaceBook and is featured in the 2018 on-line publication web site Labocine - Intimacy and Catastrophe: How Film Frames Climate Change by Kirsten Strayer, Curator/Author. Previously, this film had never been posted in its entirety on the web.

Previously, June 4th, 2016 screening of 98.3Khz: Bridge at electrical storm was at The Cinematheque, Vancouver, Canada in native film form along with a number of curated archived experimental films from the 1960's and 70's Vancouver underground - experimental film scene. These screenings were part of a full program celebrating the Cinematheque 'Archives Day' and featured introductions, discussions.
Previously, international screening of Visual Essays: Origins of Film in Italy, July 2016 at the Pesaro Film Festival.
Check out Amerika and Visual Essays: Origins of Film to see why.
Razutis Film - Video - Media Archives

For the last few years the personal film - video - holography - writing archives of Al Razutis have been undergoind 'excavation' and re-publication or further archiving when necessary. This has resulted in a number of works recovered and archived for restoration and storage of original elements and their documentations. All film elements and completed films are now stored at the Academy Film Archives in Hollywood, California which is where Al Razutis is from in his coming of age and initial film activities.
Razutis - Collected Writings on the Web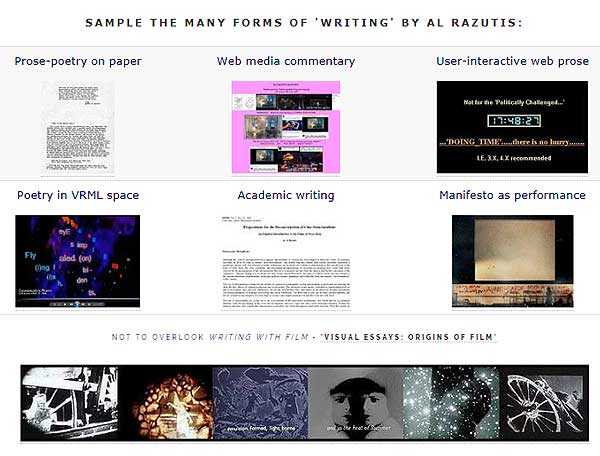 Collected essays, interviews, publications in various forms, unpublished novels, letters and manifestos by Al Razutis and on the topics of his works. Avant-garde film, holographics, 3D video art, virtual reality, critical media studies, education, exotic fictions, political art, surrealism, prose poetry and critical essays are included in this list of available works on the web and on this web site.