Photos from VISUAL ALCHEMY Studio & works by Al Razutis Vancouver 1972 - 1987
Spanning decades in the many versions of art in media culture
VISUAL ALCHEMY IN THE 70'S - PHOTOS
'Archaeological digs in the personal image archives'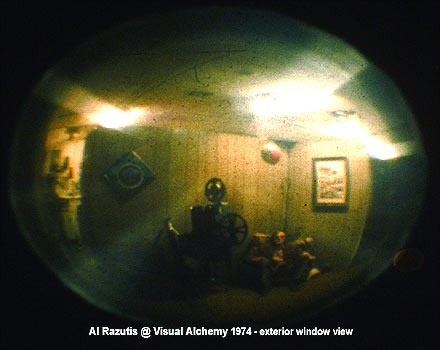 ARTISTS IN THE 70'S DISCLAIMER: " If you're looking for corporate office digs, leased furniture and graphic repros on the walls, you've come to the wrong place. No corporate profiles or head shots here; no group pictures, and certainly a lot of weird hand-built machines for imaging the imagination. No million-dollar art co-op digs here, not like Western Front, Video In, Videographe, etc. all funded by state cultural largesse. This was an independent studio in Vancouver B.C. for works by Al Razutis - depicted here from the early 70's. Interaction with other artists and their projects was a natural activity. Here, the first holograms, optical printer, video synthesizer, and other technologies, media courses, film image-exchange library were built and offered in Vancouver. These technologies built by Razutis (and acknowledged others) joined a personal curriculum or Tesla-alchemical-beyondmerephysical interests best described as 'Visual Alchemy' (history link), 1972-1978, and incorporated.
In more academic environments SIMON FRASER UNIVERSITY 1978-1987 Razutis utilized all University resources available to him as Professor in Faculty, and 'Visual Alchemy' took on expressedly political interests in his film arts and expressions, as per examples below." (XAR)
DIRECT LINKS TO OTHER DECADES - PHOTOS

1980'S HOLOGRAMS & EXHIBITIONS 1990's HOLOGRAMS & EXHIBITION 2000's HOLOGRAMS

SELECTED HOLOGRAPHIC ART - ON SALE NOW
---
RELATED SUBJECTS:
BIO BACKGROUND INFO
Razutis Media CV - Awards - Exhibitions - Collections

For present excursions in VISUAL ALCHEMY visit

- Al Razutis - Visual Alchemy
Related topics:

Illustrated Film - Video Archives 'Holographic History at Visual Alchemy' 'Holographic Intentions' (and Plato's Cave')
---
1970's VANCOUVER - VISUAL ALCHEMY EARLY DAYS

'FILM - VIDEO - HOLOGRAPHY'
16mm FILM OPTICAL PRINTER:
Custom constructed in stages by Al Razutis 1970 - 1974, this film printer was unique (one of a kind) in Vancouver early 70's.
Between 1970 - 77 the optical printer was used in films by Razutis (and K. Tougas, D. Rimmer, and others),
including 'Visual Essays' and 'Amerika' by Al Razutis
> Film Optical Printer with Details Map <
Films created with the Razutis Film Optical Printer
'FELIX' ANALOG VIDEO SYNTHESIZER - 1973-76:
Custom constructed in stages by Al Razutis & Jim Armstrong - 1974-76. Videosynthesizer was unique (one of a kind)in Canada mid 70's. See 'History of Felix' page for detailed information on this creation.
See creations that used this synthesizer: 'Videographics' (Film-Video 'HYBRIDS' created using optical printer / synthesizer)
Videosynthesizer 'Felix' with Details Map
Video art created with the Razutis FELIX Video synthesizer:
'SYNAPSE' -- BIO-FEEDBACK VIDEO PERFORMANCE - 1976:

Bio-feedback video performance with FELIX synthesizer and EEG - ECG bio-monitors broadcast live on Channel 10 TV in 1976 by Al Razutis
-- other bio-feedback workds include Waveform 1974 video, and Canadian Sunset 1977 plant-interactive video.
Also see description page of live TV video performance created using 'Felix' video-synthesizer: 'Synapse'
---
EARLY HOLOGRAPHY - VISUAL ALCHEMY - 1972-5:
"VISUAL ALCHEMY INC.' was the first holographic arts laboratory in Canada - 1972-1977 - created by Al Razutis. Between 1972 - 77 the lab was used in the creation of a travelling holographic art exhibit "Visual Alchemy".
See 'Detailed History of Holographic Art at Visual Alchemy' for history texts.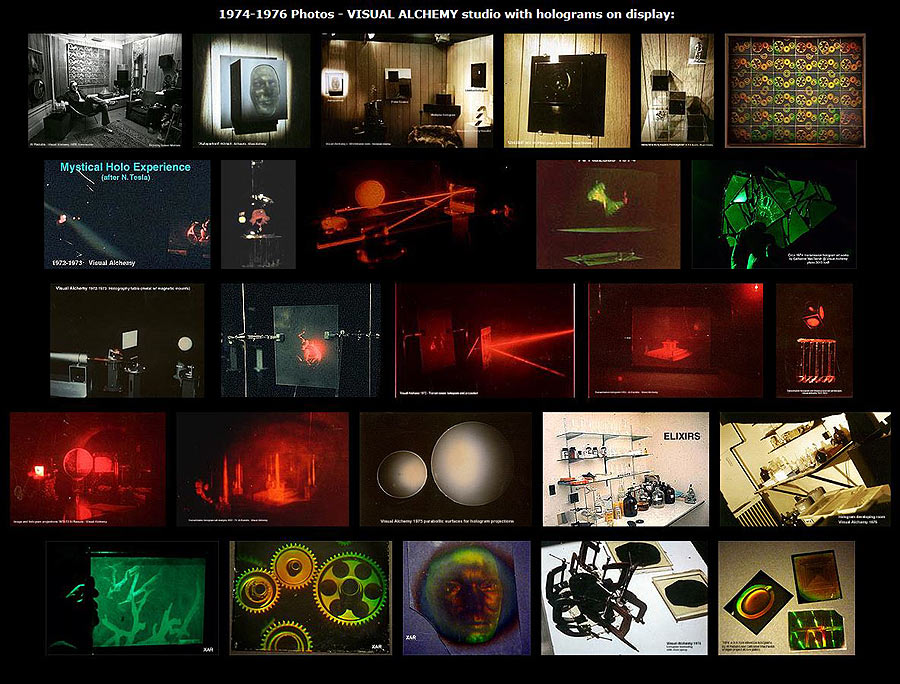 Click on collage graphic or VISUAL ALCHEMY HOLOGRAPHY for photo galleries of 1970's works/exhibitions.
'VISUAL ALCHEMY' - Solo traveling exhibition 1977-1978 - Holographic art by Al Razutis: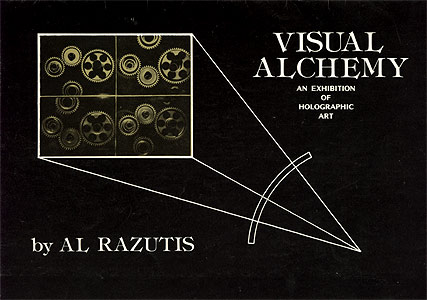 VISUAL ALCHEMY - solo exhibition of holograms by Al Razutis
- catalog cover innaugural Burnaby B.C. show 1977
Click for enlarged cover view with inside text by Razutis.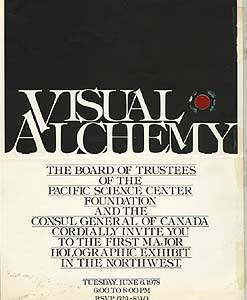 VISUAL ALCHEMY - final exhibition of holograms by Al Razutis
- invitation to Pacific Science Center Seattle, Washington show 1978
Click for enlarged view in separate window.
'VISUAL ALCHEMY' - Complete list of exhibited holograms - Holographic art by Al Razutis: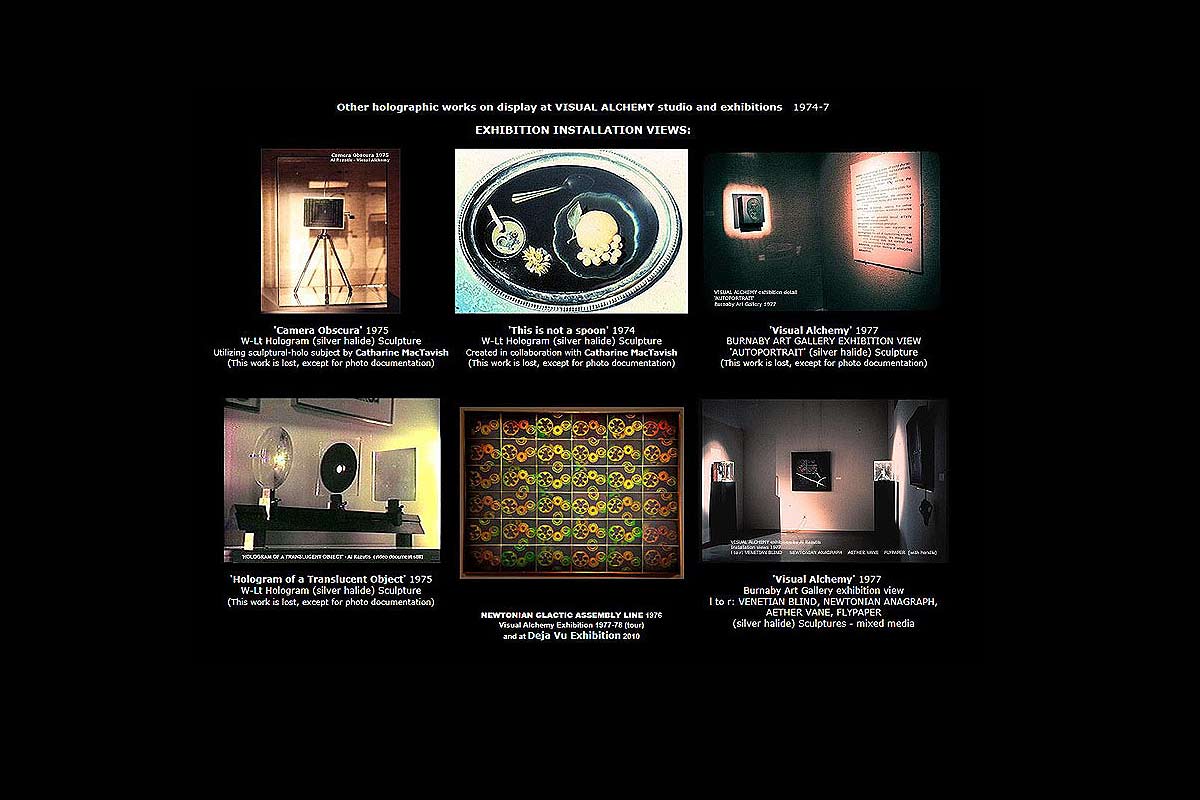 VISUAL ALCHEMY - EXHIBITION LIST of holograms (Inaugural show catalog)
VISUAL ALCHEMY - EXHIBITION PRESS RELEASE (March 9, 1977)

"Since 1972 Al Razutis has been working independently on a program dealing with the creation of three dimensional imagery via laser holographic techniques. An operational holographic laboratory was built by Razutis in which he has carried out holographic works with the intention of developing the media into an art form. Art and technology are explored as alchemical processes. The exhibition concerns itself with holography as sculpture and art rather than topical perceptual gimics or media novelties."
Writings by Al Razutis\ (Samoa, 1977)
'THE END OF DAYS' (studio demolition 1978)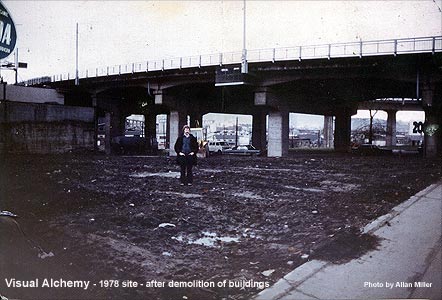 2nd Ave view after demolition of buidings of Visual Alchemy Vancouver 1978
Granville St. bridge and False Creek in background.
'PEOPLE'S WALL & AMERIKA' POLITICS AND STREET ART 1978 - 1987 Vancouver:
POLITICS - STREET - FILM ART - East Vancouver 'People's Wall' - Razutis 1983 - Newspaper Story - Vancouver Sun - 'AMERIKA' film frames


'AMERIKA' - 1972 - 1983 (3 hrs. film)<

'AMERIKA' - 1972-1983 - Independently funded - no grants - avant-garde film by Al Razutis

FILM CATALOG DESCRIPTION - photos & video clips
THE WILDWEST SHOW - A MESSAGE FROM OUR SPONSOR - 'AMERIKA':
'THE WILDWEST SHOW' & 'A MESSAGE FROM OUR SPONSOR' - 'AMERIKA' (1972-1983)
Some of the films that brought down the >Ontario Board of Censors
---
JOURNAL OF HOLOGRAPHY ART AND BUSINESS NEWS (1985-86, 1992):

> SELECTED ARTICLES from WAVEFRONT <
'OPSIS'
JOURNAL OF AVANT-GARDE AND POLITICAL CINEMA (1984-85):
COVER and CONTENTS pages for 'OPSIS' Vol 1. No. 1 - 1983, Vol. 1. No.2/3 - 1984-5 - The Canadian Journal of Avant-Garde and Political Cinema
SELECTED ARTICLES from OPSIS re-published on the web
Related topics:

Illustrated Film - Video Archives 'Holographic History at Visual Alchemy' 'Holographic Intentions' (and Plato's Cave')
---
---