Visual Alchemy in the Public Eye
Holographic Art - 3D Film - Avant-Garde Film - Writings - Web Distribution - Contacts
Experimental Films - Stereoscopic 3D films for 2017
Burning Man 2015 filmed in Stereoscopic 3D and mono by Al Razutis

Al Razutis went to Burning Man 2015 and filmed the art, people, and various creations and events in a spontaneous setting and documented this world-famous 'anarchist art event'. These films will be released in 2017 as a single 2D film and a number of stereoscopic 3D experimental films by Razutis. More information will be coming upon each release and date, including 2017 New Fillm Release 'Scenes from Burning Man 2015' 13 min. short subject - HD & Stereoscopic 3D.
'Holograms in White Light' - 2016 Summer Exhibition
Now by Appointment only at Visual Alchemy Studio

Holographic works by Al Razutis and Sharon McCormack including samples from Sharon McCormack Collection and Archives are on display now at Visual Alchemy Studio, Saturna Island, BC Canada. Additionally, selections from the nude pulsed holographic portraits of Ron Olsen (in the collection of AR) are also on view. This exhibition is of 'white-light illumination' holography and features holographic stereograms, embossed holograms, pulsed laser originated white-light reflection holograms, and dichromate (DCG) holography and art.

This is the 'largest and most complete exhibition - collection - archives' of Multiplex holography & Sharon McCormack's works currently in existence in (all of) Canada and the US West-Coast. It is available for special exhibition, tours, installation. See McCormack Collection & Archives Terms for more information.
Entrance - Room 1 - Holographic Art & Display in white light - Dichromate, Pulsed, and Multiplex Holograms - Various Artists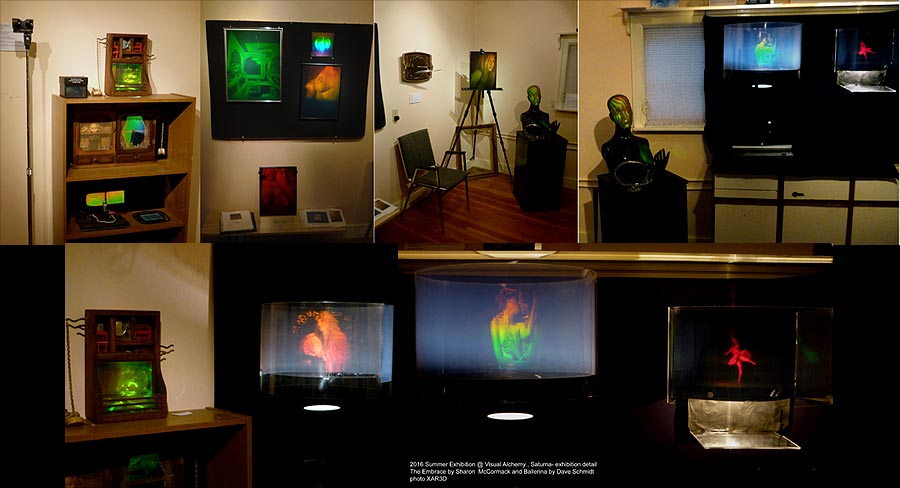 View of Room 2: Prince 'Diamonds and Pearls' Multiplex motion-picture stereograms and embossed Holograms by Sharon McCormack - Collection




VIDEOS in 3D and 2D of Holograms @ Visual Alchemy (FaceBook)




TO VISIT this exhibit by special arrangement contact Al Razutis, studio owner and director. Visual Alchemy is located on Saturna Island, BC, Canada and is reached by air (from YVR South - http://www.seairseaplanes.com/) or by BC Ferries (http://www.bcferries.com).
MEMORY LANE:
There were no 'open house tours' in the 1970's at Visual Alchemy - Vancouver, but the Multiplex 'Ballerina' was there on the wall...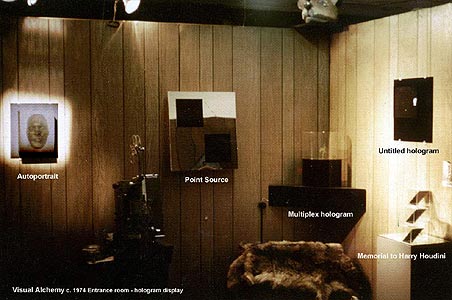 2016 - holographic arts and archives of Sharon McCormack @ Visual Alchemy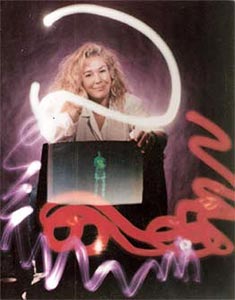 Al Razutis now represents the arts archives of holographer Sharon McCormack as Curator and Trustee and Preservationist for posterity
This Collection and Archive is stored and preserved at Visual Alchemy Studio
More illustrations in 3D and 2D and documentations will be forthcoming in 2016
Contact Al Razutis at alrazutis@ymail.com to discuss your exhibition interests.