Current Projects - Exhibitions
Holographic Art by Al Razutis for Sale or Exhibition




McCormack Multiplex Collection & Archives


2016 New Fillm Releases by Al Razutis to be announced.
'Scenes from Burning Man 2015' 13 min. short subject - HD plus experimental films in Stereoscopic 3D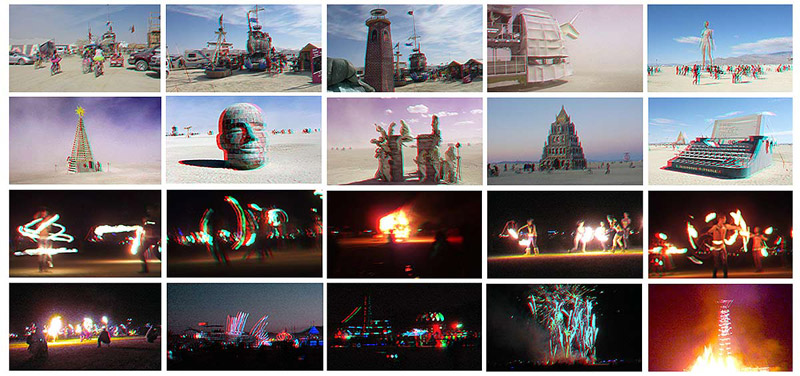 Featured Holographic Projects Projects
Exhibition by Al Razutis of Holographics & Projection System, Lanzhou, China 2014

>
Holographics in Stereo 3D Photos
Solo Exhibition by Al Razutis of Holograms , Lanzhou, China 2014


These six large pulsed-laser transmission holograms by Al Razutis - from the 'Apsara Series' are now in the permanent collection of Lanzhou City University - Dun-Huang Creative Center, Lanzhou, China and are on exhibition since October 12th, 2014.
Past HOLOGRAPHIC ART Exhibition photos in 3D - with HTML 5 Stereo 3D Player (Multiple viewing formats)

Holographic art by Al Razutis at 'Deja Vu'' (2010)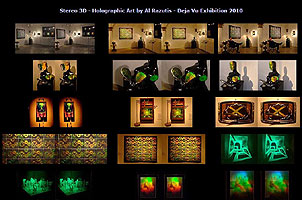 3D exhibition photographs by Gary Cullen 2010
To contact Al Razutis for quotes on your holographic projects e-mail: alrazutis@ymail.com
For other topics on film, 3D video, holographic exhibitions and projects & art
Visit us on FACEBOOK

Visual Alchemy
---
PAST FILM EXHIBITIONS - PRESENTATIONS of works by Al Razutis.
2015 Film Screenings of works by Al Razutis - in curated group shows

2015 Film Screening of "Vortex" >March 5th, 2015 at Cinematheque Quebecois, Montreal, Canada -- > Vortex film from Amerika.
2015 Film Screening of "A Message From Our Sponsor" February 23, 2015 at The Cinematheque, Vancouver, Canada A Message From Our Sponsor film from Amerika.
2014: Documentary film screening Sept. 5th, 2014., at Open Space, Victoria, BC of BACKBONE documentary by Richard Martin (Prod./Dir.) features interviews and films by Al Razutis and Vancouver experimental filmmakers 70's - 80's.
"NOT ABOUT ART" June 12th 2014 Echo Park Film Center, Los Angeles, Calif. - a selection of short films by Al Razutis - Visual Alchemy. This program. organized by Mark Toscano, Academy Archives and EPFC, was attended by the film-maker for open Q & A's, and included works from the widely exhibited and collected films by Razutis 'Amerika' and 'Visual Essays: Origins of Film' and included his controversial avant-garde film 'Splice...'.
Special Film Screenings & Festivals:

'Ghost:Image' (Al Razutis) screenings:
Paris, France, Musee du Louvre, Auditorium, March 14, 2014 -- ' Duos ephemeres ', sound performance, curated by Pascal Raynaud, with a composed sound live set and original score by Gable http://www.gableboulga.com/ Paris, France, Programming structure Braquage, May 28, 2013
Paris, France. Light Cone (Scratch) May 14, 2013
Chateauroux, France, Maison de l'image apollo, April 7, 2013
'Lumiere's Train (Arriving at the station' (Al Razutis) screenings:
BACKBONE @ RAFF 2014, Reel Artists Film Festival (TIFF Bell Lightbox) (February).
The doc by Richard Martin is an official selection of the 32nd edition of FIFA International Film Festival of Films on Art at the Cinematheque Quebecoise, Montreal (March). Also in 2014 is a screening in Ottawa at the Available Light Collective
BACKBONE @ NW Film Center / Portland Art Museum, Portland, Oregon, May 29th, and Nov. 8th, 2013.
BACKBONE @ 2014 DOXA Film festival, Vancouver, May 4th and 12th, and Winnipeg Filmmakers Cinematheque Oct 24th, and at TIFF (Toronto) on November 7th, 2013
2012 FILM EXHIBITIONS - PRESENTATIONS
A Message from Our Sponsor- the once-banned film by Al Razutis 1980 - was featured at the following conference and screenings:




'Institutions by Artists' Screening and discussion, Al Razutis with Jennifer Cane - PAARC Conference, Vancouver, Canada, October 12, 2012


Streamed video of (SESSION ONE) FILM screening and CANE - RAZUTIS discussion with audience Q & A archived at: http://www.livestream.com/institutionsbyartists/video?clipId=pla_4070d7f5-cc7f-4cbf-a0ae-9422ef6bba0e

-- Session One stream: J. Cane intro and FILM begins at 48 min., A. Razutis and J. Cane speaking at 58 min, audience Q & A at 78 min. and end at 1 hr 25 - continuing to next sessions in this two and a half hour stream of SESSION ONE Friday Oct. 12th 10:30 AM at Worlds Art Centre, Vancouver.



'Art for Consenting Adults' - Anti-Censorship and Cineworks 1980 film package, curated by Jennifer Cane, Pacific Cinematheque, Vancouver, Canada, October 15, 2012, 8 p.m.

Film makers David Rimmer, Chris Gallagher, Peter Lipskis, Richard Martin and Al Razutis were in attendance, and the organizing curator Jennifer Cane, and experimental film critic and historian Tony Reif, curator-theorist Amy Fung, and the Director Meg Thornton and current Board President Stephen Wichuk of Cineworks and Sylvia Jonescu Lisitza of Moving Images Distribution.

These two organizations were founded by experimental and independent filmmakers in 1979-80 (the dates the screening referred to) and were a instrumental part of this event and the historical anti-censorship events that preceeded it.
SUMMER 2012 EXHIBITION - PRESENTATION at NSA Conference, California, USA
Presentation of Holography and Stereoscopy at NSA 2012 3D-Con, Costa Mesa, Calif. July 2012
Al Razutis exhibited holograms at the National Stereoscopic Association 3D-Con conference July 26-29, 2012, at the '3D Gallery' exhibition of stereoscopic 3D works. He also conducted a workshop in 'Holography and Stereoscopy: Relationships and Differences' at NSA 3D-Con. According to knowledgeable sources, this was the first time for holography to be included in an NSA conference.
This was an in-person appearance by Al Razutis, with on-site holograms and demonstrations, and it resulted in a number of stimulating discussions about 3D and holography and their mutual, and inter-related, futures. Installation assistance provided by Danguole Varnas and Chuck Paxton; additional workshop holograms provided on loan by Gary Cullen.
| | |
| --- | --- |
| | Workshop by Al Razutis on 'Holography and Stereoscopy' at 2012 NSA 3D-Con, July 28th, Costa Mesa, California |
Razutis brought to the 3D Gallery exhibition a selection of six works spanning holographic techniques and subject matters, from a deep space transmission hologram ('Escher Falling') to a interferometric hologram (surrealist assemblages featuring holograms. He also conducted a hand-on workshop on the interrelated but distinct imaging processes 'Holography and Stereoscopy' citing their formal and perceptual relationships and their differences.
Razutis is trying to forge links between stereoscopic 3D imaging and arts and holography in both art and science. Holography, and holographic television, holographic data storage, and holographic environments (like the 'holodeck' of Star Treck) are the future to him. And the future language of holography is dependent on what happens in today's stereoscopic 3D film, photos, and interactive art.
Gallery exhibit in anaglyph (red/cyan) stereo 3D:
2010 EXHIBITION of Holographic Art & Stereoscopic 3D 'DEJA VU'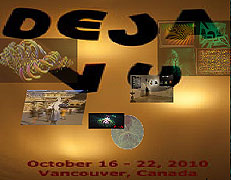 An exhibition of Holograms, installations & stereoscopic 3D in Vancouver 2010 by Al Razutis - Melissa Crenshaw - Gary Cullen included holographic & 3D works in different medias, from the 1970's to the present. Wall, sculpture and master transmission holographic works were presented, as well as projected stereoscopic '3D video art'. Many of these holographic works had been in prior international exhibitions.
3D works by invited guest artists Rick Gibson (Lenticular 3D portraits), and John Hart and Jerry Oldaker (3D Fractals in HD 3D Film - Fractal Odyssey) were exhibited. Also included in this exhibition were historical and contemporary stereoscopic 3D works. Cameras and viewing devices from the 1800's/1900's (from the collection of Gary Cullen) as well as legacy and current 3DTV displays completed and contextualized the exhibition.
Presented on October 16 to 22, 2010, in Vancouver, BC, Canada.
Razutis Holography page Razutis - Holograms available for sale
Deja Vu Holograms in Stereo 3D
Visit the Archives: 1996 - The 3D Show That Wasn't, Edison Electric, Vancouver
SELECTED PAST INTERNATIONAL FILM EXHIBITIONS 2010 - 2004
Film - 3D Video by Razutis at SeNef (Seoul Net and Film Festival) 2004 - Seoul, Korea:
Festival Review: For a personal review of the festival experience by Razutis, see To and From SeNef 2004.
A partial retrospective of film, video and3D video by Al Razutis was presented as part of SeNef (Seoul Net and Film Festival) in September 2004, Seoul, Korea.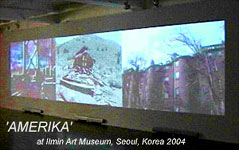 Installation works by Razutis presented at the Ilmin Museum of Art (SeNef - 'Samsung Media Lounge'), downtown Seoul, included a 3-screen video projection of 'Amerika'. (click title links for film descriptions, image link for WMV Win Media 30 sec. 500K Video clip).
A single monitor installation version of 'Why Don't You Just Leave' was presented in looped presentation.
Also included in continuing playback was Razutis' work West-Coast Artists in Light, in this case as a four-monitor installation in stereoscopic 3D video of VOLUME 4 which featured the works of Four artists: Fred Unterseher, Sharon McCormack, Melissa Crenshaw and Al Razutis -- as linked to the page here.
Al Razutis also served as President of the International Film Jury (see 'Digital Express') and also conducted a special workshop in 3D Video Art - Aesthetics and Technology'. Additional public screenings of film-video works by Razutis included 'Visual Essays: Origins of Film' and a stereoscopic 3D video (projected) screening of 'Selections'. This film exhibition was programmed by Felix Ji-Hoon Kim< and the installation works were curated by Jeon Sung-kwon. The Director of this ambitious and visionary festival is Ahn C. Park.