IN BRIEF: 1997 FILM-VIDEO TOUR OF FRANCE
Musee du Louvre - October 20, 1997
A program of five 3D Videotapes by Al Razutis (Mediations, Virtual Flesh, Virtual Imaging, Discovery of Loss, Shadows of Love) was presented on October 20th, 1997 in Paris at the Musee du Louvre. This presentation, organized and curated by Pilippe-Alain Michaud, was part of a week-long series on three-dimensional film (and video) works spanning the history of this medium, and featuring both European and American artists (such as Ken Jacobs presenting projection-performance works in 3D) as well.
Razutis' 3D video presentation was made on two Barco video-projectors (which de-multiplexed the field-sequential tape into separate polarized outputs). After an initial confusion (on the part of the BARCO technicians as to the required technical features of the presentation), the presentation was made with a screen size of approximately 16 foot width (featuring a high-quality non-flickerless projection) for passive cross-polazied viewging.
This was a rare chance for French audiences to view 3D (field-sequential) video - there is no such working experimental or video art being conducted in France. Following the screening, Razutis was criticized by some french experimental filmmakers for beeing 'too conservative' in his 3D. He took that too heart, and during the rest of his France exhibition (of avant-garde films) tour across France, including stops in Grenoble, Marceille, and Nantes, he embarked on new works ( 'France 97', and 'Statues' - released in 1999 by Razutis) using more overtly experimental stereo cinematographic and editing techniques.
The 3D screening by Razutis at the Louvre was followed in Paris with a media workshop (organized by Pip Chodorov and Jeff Guess) at Les Atelliers on Virtual Reality, 3D Video, with hands-on stereo 3D experimentation, and a screening of Razutis' experimental film 'AMERIKA' on three screens.
A special thanks to Pip Chodorov for being instrumental and helping organize Razutis' film - video tour that would follow after the Louvre presentation and span various film-video centers across France. He, along with Philipe-Alain Marchaud, would also be instrumental in the later purchase of 'Amerika' the 3-screen film by Al Razutis by the Museum of Modern Art - Pompidou in Paris, France for their permanent collection.
Canadian Cultural Center, Paris - October 23, 1997
Uroboros VRML 2.0 by Al Razutis was presented in videotaped form (output from SGI computers) and the installation videotape Why Don't You Just Leave? by Anne Popperwell and Al Razutis was presented at Canadian Cultural Centre in Paris on October 23rd. This presentation organized by Simone Suchet. The Canadian Cultural Centre in Paris is a vital outlet for Canadian media works (for example, Nancy Paterson's laser-disc installation was on view during this time) for European audiences.
During the week-long visit to Paris, Anne Popperwell and I had a chance to meet a number of people, including the artists and curators Maria Klonaris and Katherina Thomadaki, filmmaker Rose Lowder and writer-teacher Alain-Alcide Sudre from Avignon (both long-time supporters of the international experimental film scene), Jean-Michel Bouhours (Pompidou Centre), Jean-Marc Manach (editor/publisher of the magazine 101, where an interview with Razutis was published), and a number of other individuals, all of whom attest to the vitality of French interest in past-present-future media cultures. (Visit also the updated commentary contained in the 'Avant-Garde Films and Videos' section for more views on avant-garde film culture.)
National Cinematheque of France - October 24, 1997
A selection of avant-garde films by Razutis (Visual Essays: Origins of Film and On the Problem of the Autonomy of Art in Bourgois Society or...Splice) was presented on October 24th in Paris at the National Cinematheque. This program was curated by Nicole Brenez, a writer/critic/theorist and teacher at the University of Paris.
Avant-Garde Film Venues - France, October - November, 1997
Other screenings in France, October-November 1997, included the three-screen presentations of Amerika in Marseille, October 31st at XHX, organized by Gilles Royannais.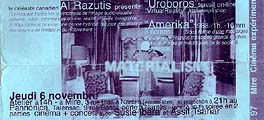 A special 3-screen screening of Amerika and a workshop on 3D Video was organized by Nicolas Gautron at MIRE in Nantes, November 6th. The film presentation in Nantes was made in a 'jazz club' (PANONICA) to an overflowing audience. The screening featured a 'critical' introduction by Razutis outlining the difficulties Amerika has had (in terms of censorship in Canada, the hegemony of the Testa-Elder academic 'mafia' and its influence on stiffling experimental film works in Canada, and related topics). The Amerika film exhibition in Nantes was documented on video (available from Light Cone, Paris), and represented a rare opportunity to view this dense and complex work in the multiple-screen format (the prefered format).
The 3D video / virtual reality workshop was attended by students and faculty from as far away as the north of France (450 km).
A interview with Al Razutis by Gilles Royannais, conducted on the cliffs outside of Marseilles, was published in 1998 in France.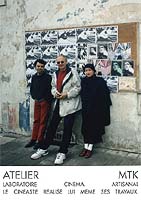 A notable visit to METAMKINE (MTK) Grenoble featured meetings with experimental filmmakers there and a film exhibition of Visual Essays and On the Problem of...Splice at 'Le 102 - ART TOUNG!, on November 4th, organized by Xavier Querel and Laure Sainte-Rose. This organization (headed by Xavier Querel, features some highly-innovative, energetic people (including Christophe Auger) who are totally dedicated to experimental film, home-grown equipment (they have their own processors, printers, editing machines!), occupied and renovated buildings, wonderful works (METAMKINE - Querel, Auger, Noetinger - performance with film, and the experimental film works of Sainte-Rose), and presents a living antidote to much of the cynical (the typical middle-aged academic) attitudes prevalent in the North American 'experimental' film scenes.
It is hoped that there will be more international film-video-cultural exchanges in the near future since the dismal 'scene' in Canada and North America would greatly benefit from seeing what 'else' is out there (beyond the professional self-promotions of dead-and-dying filmmakers that are springing up all over) and even further benefit from seeing what constitutes the 'future' (beyond what some insipid academics are offering up as the 'canon' of experimental cinema). The French organizations featured dedicated individuals whose motives were a love of cinema and culture. Something for North America to contemplate.