BEYOND INTERMEDIA
EMERGENCE OF INSTITUTIONS: 'CINEMATHEQUE', 'MOVING IMAGES', 'CINEWORKS' VANCOUVER
N.B. Due to the scarcity of 70's recorded and remaining material (images), this archive is an in-progress work and is intended as a factual supplement to biographical material. We gratefully acknowledge the personal archives of Werner Aellen (Director of Intermedia) and the public domain archives of "Intermedia Catalogue" assembled by Michael de Courcy - also under the title 'Vancouver Art in the 60's' from which we have obtained a few photos and news articles and have placed credit where appropriate.
GREATER VANCOUVER FILM CO-OP BECOMES 'PACIFIC CINEMATHEQUE PACIFIQUE'




Werner Aellen (Director of Intermedia) and Tony Emery (Director of Vancouver Art Gallery) create the Pacific Cinematheque Pacifique Vancouver from the legacy organizations Greater Vancouver Film Co-op and Intermedia Film Co-op models before.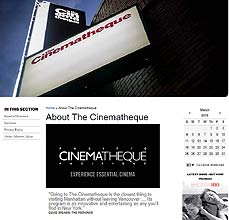 The Pacific Cinematheque Pacifique today:

Drawing on the INTERMEDIA tradition and the models of 'Intermedia Film Co-op' which exhibited foreign undergroung films films weekly this organization THE CINEMATHEQUE continues to this day showing quality experimental, independent, foreign films to Vancouver BC audiences.

http://www.thecinematheque.ca/



CREATION OF OUR OWN VANCOUVER FILM DISTRIBUTOR 1980's
An alumnus from the days of INTERMEDIA FILM COOP Al Razutis secured the interest and assistance of other Vancouver experimental filmmakers in 1981 (Rimmer, Tougas, Lipskis, Kidd, Gallagher) to demand reforms, creation of Experimental Film Officer, and later independence from "Canadian Film Makers Distribution Centre". Together with other filmmakers they began the formation of CWDW-WEST (NB: "Al Razutis did not agree with Vancouver Branch Board to pay any money to CFMDC Toronto 'for the name'. Instead, he resigned from the Board."). This organization would later become today's MOVING IMAGES DISTRIBUTION
With reference to INTERMEDIA FILM CO-OP - Vancouver, 1968-70
Underground Film Distribution Co-Op (Co-founded by Al Razutis)

INTERMEDIA FILM CATALOG SAMPLE PAGES:

Intermedia Film Catalogue - complete - PDF (35mb pdf file)
CREATION OF OUR OWN VANCOUVER INDEPENDENT FILM PRODUCTION CO-OP 1981
The same alumnus from the days of INTERMEDIA FILM COOP Al Razutis, now a tenured university professor secured the interest and assistance of other Vancouver experimental filmmakers in 1979-81 (Kidd, Rimmer, Lipskis,) to participate in a government-funded independent filmmakers society to be named later in 1981 Cineworks Independent Filmmakers' Society and even later be the subject of myth-making on the part of those who weren't there.
STORIES OF CINEWORKS & FILM STUDIES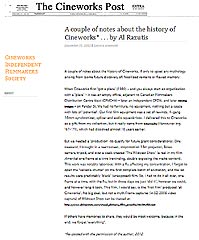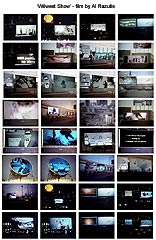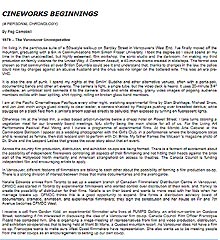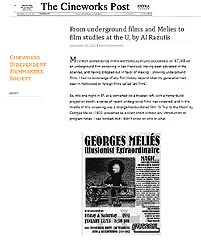 This is Razutis' short version story of the creation of Cineworks as he told it on Cineworks Post page:

" When Cineworks first 'got a place' (1980) - and you always start an organization with a 'place' - it was an empty office, adjacent to Canadian Filmmakers Distribution Centre West (CFMC-W) - later an independent CFDW, and later Moving Images - on Pender St. We had no furniture, no equipment, nothing but a space with lots of 'potential'. Our first film equipment was a set of rewinds, 4-gang 16mm synchronizer, splicer and audio squawk-box. I delivered this to Cineworks as a gift, from my collection, but it really came from Intermedia (Vancouver org. '67-'71), which had dissolved almost 10 years earlier.
"But we needed a 'production' (to qualify for future grant considerations). One weekend, I brought in a rear-screen, stop-motion 16m projector, Bolex camera/tripod, and over a week created 'The Wildwest Show' (a reel in my film Amerika) one frame at a time (rewinding, double exposing the matte content). This film, I would say, is the 'first film' produced 'at Cineworks'.
Frame captures (in SD 2006 video capture) of Wildwest Show can be viewed at: http://www.alchemists.com/visual_alchemy/film_amerika.html#wildwest
If others have memories to share, they would be most welcome, because in the end, we forget 'everything'. "

https://cineworkspost.wordpress.com/2012/12/11/a-couple-of-notes-about-the-history-of-cineworks-by-al-razutis/
This organization is today's CINEWORKS INDEPENDENT FILMMAKERS SOCIETY (web site)

Historical chronology by Peg Campbell 2001 with my corrections: 'Cineworks Beginnings'
---
Historical texts as reference:

'Recovering Lost History: Vancouver Avant-Garde Cinema 1960-1969' (Al Razutis)
Back to:

Psychedelic Cinema Underground History of Visual Alchemy
Forward to:

Synaesthetic - Expanded Cinema Holographic Cinema of the 1970's
Drawing on Film - Video Archives


---
[HOME PAGE]

[PICTORIAL HISTORY OF VISUAL ALCHEMY]

[CURRENT PROJECTS - EXHIBITIONS - INFO]

[CRITICAL WRITINGS ON MEDIA]