SYNAESTHETIC AND EXPANDED CINEMA
Emergence of experimental film and video art:
'SYNAESTHETIC', 'BIO-FEEDBACK INTERACTIVE', 'INTER-MEDIA CINEMA'
EXPANDED CINEMA by GENE YOUNGBLOOD (1970) describes the ambitions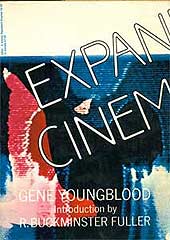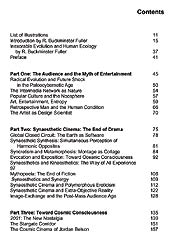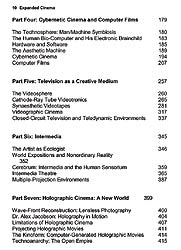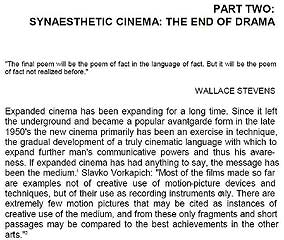 Download EXPANDED CINEMA by Gene Youngblood, 1970 (PDF)
Whereas Youngblood's Expanded Cinema describes 'synaesthetic cinema' as 'experimental cinema' primarily concerned with formalist issues and cinema-specific techniques, underground films did not end then (as a cinema or practice) but mutated into many forms. A archive or works by Al Razutis in undergrouhd, experimental film, experimental and hybrid video, in stereoscopic 3D film and video is found here: Razutis - Film and Video Archives
All works listed on this web site were produced and directed by Al Razutis, unless otherwise credited. These are independent creations with credit to concept, writing, videography, editing, sound recording and mix, video special effects and rerecording by Al Razutis, unless otherwise noted in credits. 'Video by' means precisely motion-pictures for TV screen authored in video.
See also legacy Video Synthesizer developed for these projects - photos and historical photo page.
'VIDEOGRAPHICS: SELECTED WORKS' (1972 - 1974)
('Software', 'Vortex', 'Aurora', 'Moon at Evernight', '98.3 KHz: Bridge at Electrical Storm' - 40 min. )


1-2 min. excerpt videos from this work on YouTube: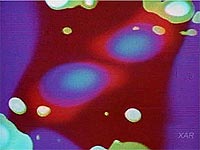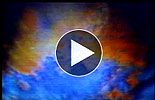 VIDEOGRAPHICS is a collection of film - video 'hybrids' representing the crossing over from film to video (back and forth) image processing - synthesizing techniques that involved both the video-synthesizer (Razutis - Armstrong FELIX) and Razutis' personally built film optical printer. Neither exclusively 'film' nor 'video', these groundbreaking works represented the first Canadian experimental film-videos that challenged the oppressive critical orthodoxies of (what is) 'film' or 'video' art that were rampant in their respective 'scenes' at that time.
---
'HYBRID' (1973)
Co-created with Gary Lee-Nova - 60 min.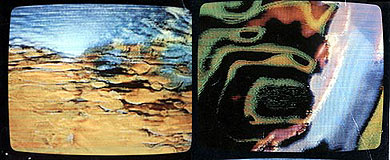 HYBRID is a video featuring some of the earliest experiments (done on 1" tape) in synaesthetic video art and 'hybrid' forms of film and video. It is an assemblage of 16mm film and video content that integrates both film (pre-existing film material by Razutis and Lee-Nova) and video intermediates which re-interpret this material using video synthetic processes (feedback, colorization, quantizing, abstracting). Razutis and Lee-Nova travelled to Evergreen State College, Olympia, Washington and Portland City College in Portland Oregon and engaged their supportive staffs to create this experimental video art piece over a number of months in 1972-1973.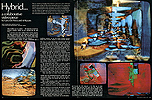 Arts Canada 1973 Video Issue - 'Hybrid' essay & graphics (large JPEG) -- Higher resolution PDF file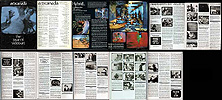 Arts Canada 1973 Video Issue - Full Section on Vancouver Video Art (large JPEG)
Higher resolution PDF FILE
---
'AURORA' (1974)
( sound, 6 min. )

1-2 min. excerpt videos from this work on YouTube: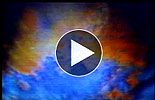 AURORA is a analog videosynthetic work incorporating film loops subject to colorization, quantizing and layering and was created by Razutis at the video facilities of Evergreen State College (where he taught in 1972) and Vancouver (Visual Alchemy) utilizing his 'Felix' video synthesizer.
---
'WAVEFORM' (1974 - 1976)
('Waveform' and other shorts - 26 min. )

WAVEFORM documents and interprets art created using bio-feedback experiments conducted by Razutis and colleagues in Evergreen State College (where he taught in 1972) and Vancouver (Visual Alchemy). Artist was plugged into bio-monitoring devices (Beckman EEG, ECG) which performed 'voltage controlled' keying of looped film-video imagery in real-time synthesis. The resulting 'loop' (artist - real-time display - artist) became a 'feedback loop' which depended on artist's ability to affect change (breathing, heartbeat, brainwaves) on the synthesis process.
---
'SYNAPSE' (1976)
Bio-feedback Performance Video 60 min., 1976
Distribution Edit version with titles, 28 min., 1979
40 sec. excerpt video on YouTube:




Before Virtual Reality (VR), before interactive digital graphics, there was bio-feedback and interaction with analog signals (video, audio, any waveform). And the 'medium' for this real-time interaction was the analog video-synthesizer, like the Felix, which was custom-built at Visual Alchemy by Jim Armstrong and Al Razutis.
SYNAPSE (live broadcast bio-feedback performance piece on February 13, 1976, 8 p.m. Channel 10 Vancouver) is there to remind us of what happens when artist plugs himself into the bio-feedback machine in the 70's - artist as videosynthesizer, amplified by feedback loops, resulting in brain theta waves and accelerating and dangerous bio-rhythms.
---
'Film To Video / Video To Film' by Bruce Jenkins
---
Historical texts as reference:

'Recovering Lost History: Vancouver Avant-Garde Cinema 1960-1969' (Al Razutis)
Back to:

Psychedelic Cinema Underground History of Visual Alchemy Beyond Intermedia 1970's
Forward to:

Holographic Cinema of the 1970's
Drawing on Film - Video Archives


---
[HOME PAGE]

[PICTORIAL HISTORY OF VISUAL ALCHEMY]

[CURRENT PROJECTS - EXHIBITIONS - INFO]

[CRITICAL WRITINGS ON MEDIA]