HOLOGRAPHIC CINEMA 1970s
Emergence of 'MULTIPLEX', 'HOLOGRAPHIC STEREOGRAMS', 'HOLOGRAPHIC ANIMATION & MOVIES'
EXPANDED CINEMA by GENE YOUNGNLOOD (1970) describes the ambitions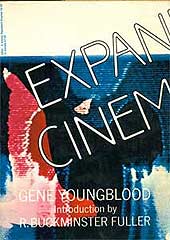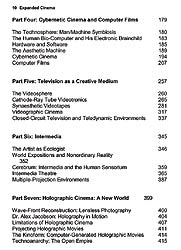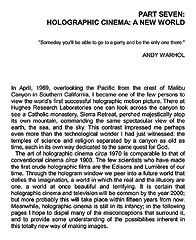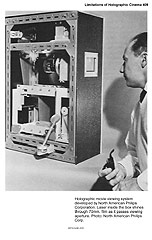 Download EXPANDED CINEMA by Gene Youngblood, 1970 (PDF)
---
The 'Multiplex hologram, the 'holographic stereogram' (or 'integral') combines 2D cinematography showing horizontal parallax and motion with 'holographic printing' (using Lloyd Cross' invented 'printers' - Mark I to Mark V - as improved on by Sharon McCormack and Cross lenses) at the San Francisco Multiplex Company (see multiplex technology). This remarkable development in holography had a world-wide impact and even appeared in motion pictures. Viewers could 'walk around' a movie playing in 360 degrees with an image appearing to float in a cylinder. It suggested 'holographic TV' or 'holographic movies' and were exhibited in the 1970's and continuing through the 1990's, 2000's.

Video clips of holographic movies - multiplex stereograms - Visual Alchemy 3D videos on YouTube XAR3D channel:



Historical pages as reference:





'Sharon McCormack Collection & Archives home page' - illustrated with links - multiplex technology



---
Full laser transmission holographic movie animation 1974 @ Visual Alchemy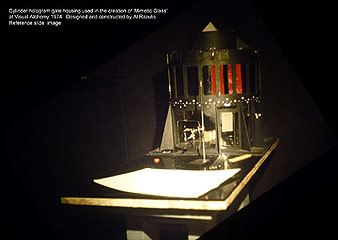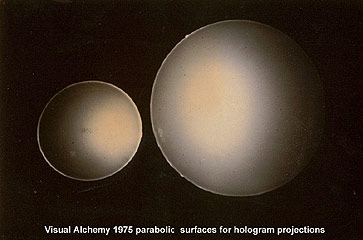 Cylinder hologram gate housing used in the creation of 'Mimetic Glass' at Visual Alchemy 1974 designed by Al Razutis as prototype for holographic motion-picture masters. 2nd photo: Parabolic plexiglas mirror shapes/mirrors in 1975 for tests of holographic movie projections ('in space') at Visual Alchemy by Al Razutis.
'MIMETIC GLASS' hologram (1974) - over 6 ft. in length - was discovered in 2010 in storage. This film animation hologram by Al Razutis 1974 made by careful advance of frame by frame animation may be the 'first motion picture hologram' made in Canada. This is true holographic stop-motion animation recorded as sequential strips of laser transmission holograms, not a 'rainbow' multiplex from 2D film. Verification or contesting claims are encouraged. TECHNIQUE EMPLOYED: Spatial multi-plexing of laser transmission hologram for each step in the motion of solid subject.
Exhibited in October 2010 at the Deja Vu Exhibition of Holographic Art and Stereoscopic 3D, Vancouver, Canada.

Collection of Al Razutis. This work is located in Saturna Island, Canada.
For purchase of this work contact alrazutis@ymail.com
---
HOLOGRAPHIC PROJECTION PRESENTED IN CHINA 2014





For 2015-2013 works by Al Razutis in motion-picture holographic cinema visit the stereoscopic 3D page
Holographics Motion-Picture Prototypes

For 2014-2018 holographic works by Al Razutis in motion-picture holographic cinema and for 3D video documents of multiplex holograms at the Sharon McCormack Collection and Archives visit the stereoscopic 3D page
Volume 4 - West Coast Artists in Light
---
Visual Alchemy Holography History Archives




'History of Holography at Visual Alchemy Vancouver' - illustrated with links - holographic animation


'Holography Today - Sales / Leases' - illustrated with links

Back to:

Psychedelic Cinema Underground History of Visual Alchemy
Beyond Intermedia Synaesthetic - Expanded Cinema

Film - Video Archive References


---
[HOME PAGE]

[PICTORIAL HISTORY OF VISUAL ALCHEMY]

[CURRENT PROJECTS - EXHIBITIONS - INFO]

[CRITICAL WRITINGS ON MEDIA]