PSYCHEDELIC CINEMA 1960'S
Films by SAM PERRY, Commentary by GARY LEE-NOVA,
AAEON by Al Razutis, critical essays by Al Razutis
PSYCHEDELIC FILMS by SAM PERRY and AL RAZUTIS on YouTube - XALRAZUTIS channel
SAM PERRY FILMS
Gary Lee-Nova remembers: "Sam had a writing project that had cinematic components. Sam called the project WEST COAST TANTRAS. Some of those were published by Bill Bissett in his Blew Ointment Magazines."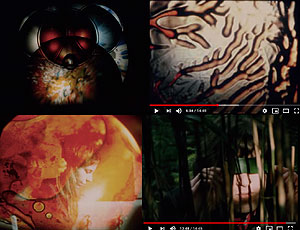 'Sam Perry 1 - Sun Strobes Light Shows Nitobe' with Gary Lee-Nova circa 1965
YOUTUBE: https://youtu.be/8jHuqcZo2DQ
Duration: 14 min. 45 sec. at 24 fps.
Sound: sprocket hole sound (silent)
16mm Film to digital transfers: UBC Belkin Gallery Scott Watson

Gary Lee-Nova (May 2018): "There were also explorations of what Sam called 'Sun Strobes.' This is a process of directly looking at the sun with closed eyes and then spreading the fingers of both hands extended fully in front of the face and then moved up and down. This has a strobing effect for the sunlight landing on the eyelids and creates sets of interesting visual patterns for the closed eyes.

(later)"With 16mm cameras, Sam and I went to the Nitobe Garden. It was late Spring or early Summer of 1965. Sam filmed me engaging plant forms like green leaves and holding them up to my eyes and observing the visible structures of the leaves."
---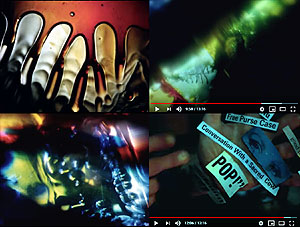 'Sam Perry 2 - Flicker - Light Show - Collage' with Gary Lee-Nova circa 1965
YOUTUBE: https://youtu.be/dRLEDkip_m0
Duration: 13 min. at 24 fps.
Sound: sprocket hole sound (silent)
16mm Film to digital transfers: UBC Belkin Gallery Scott Watson

Gary Lee-Nova (May 2018): "Brion Gysin and Ian Sommerville innovated a machine they called 'Flicker' which produces similar effects to what Sam was filming with me."

"The other footage is of me with a large pair of scissors, cutting up verbal material from magazines. I was working on collaging text and pictorial material onto a large, fascinating chair owned by Bill Bissett."
---
Gary Lee-Nova remembers: "I made some notes about Sam and our relationship a couple of years ago ('Sam Perry August 2015'):

"I had a film maker friend. He was also a writer and poet.
In the early 1960s, he traveled to northern India, to make a film about the Tibetan refugees.
In Vancouver, Sam and I did some film work together and collaborated on some projects, me in front of his cameras for the most part.
Later on, I was moving to Montreal and had to return some books that I had borrowed from him.
At his place, I asked him where to put his books and he told me to but them into a bureau drawer. I opened the drawer and there was a Browning Hi-Power 9mm semi-auto pistol or a Browning .32 calibre semi-auto laying the drawer.
I put the books in the drawer and then I asked him about the gun.
He explained that when traveling in the Himalayas, there was a robber problem, so he had the gun for that reason. He was traveling with a wife and children.
Several months later, I returned to Vancouver from Montreal.
In my absence, my filmmaker friend had become involved with the LSD25 crowd around Tim Leary and all his fellow travellers.
There was a crusade to distribute as much of the drug as possible. Sam's involvement led to him consuming far too much of the drug and he turned into a paranoid schizophrenic.
No one knew what to do about it beyond expressing sorrow and helplessness.
The few who tried to help him knew less than zero about psychology, or psychological illnesses. He was then in-and-out of a couple of psychiatric care facilities.
A few weeks later, another friend found my filmmaker friend dead in his studio, of a self-inflicted gunshot wound to the head.
Of course this was a shocking event, and I reprimanded myself severely over it because I knew he had that gun, but had forgotten about it.
I could have taken action, taken that gun away from him, but I failed."

"I hope that you'll keep me in the loop when the remainder of the material is digitized. All the best Scott.
Thank you. Best regards, Gary
P. S. Bcc: to Al Razutis"
---
28 min. color sound 1969-71 - Al Razutis prod./dir
90 sec. excerpt video of 2 select sections AAEON
'head title', 'Nightwood'
from 16mm film sources on YouTube:



3 min. excerpt video from AAEON
'Nightwood' section
from 16mm film sources on YouTube: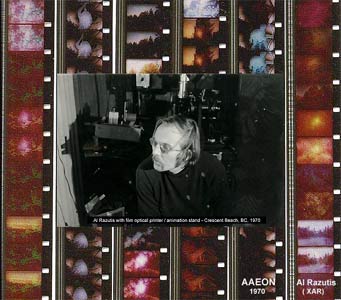 "AAEON is based on experiments with dream recollection - it is a 'dream work' inspired directly by my dreams and the recollection of the vivid imagery and fractured time that would be recalled nightly by purposely waking myself (every hour) and audio recording my recollections of the events. This project required the construction of a film 'machine', the film optical printer, which I built in various stages in 1969-1972 in Crescent Beach and Vancouver." Photo of early version of optical printer by Al Razutis.

"The film is composed of four interwoven stages or stanzas that constantly develop and redefine mythological space/time circulating around the ideas of 're-birth' (Tibetan Buddhist ideas, the Tarot, William Blake, oriental and western mysticism were some of the influences at the time) . The film is composed and edited on an optical printer effecting distortions of motion, time, composition, and colour through extensive use of 'layering' (in bi-pack printing, matte printing, step printing, colour separation, burning the film in a projection gate, infrared photography)." (A.R.)
Original music composed and performed by Phillip Werren. The music and imagery were created as a 'synergy' of both elements. Production assistance was also provided by Peter Jones, NFB Vancouver, one of the few individuals at the NFB who took an active interest in supporting underground and experimental films of the 60's-70's. Appearing: Jurgen Hesse, Kathy Razutis, Ed Varney, and Al Razutis. Screened at the Bellevue Film Festival (1970).
In the collections of Pacific Cinematheque Pacifique, and National Film Board of Canada, Vancouver.
>> AAEON FILM PAGE - PICS / TEXTS

All remaining release prints are now stored at the Academy Archives in Hollywood, USA.
References: Photo collage of AAEON frames and film optical printer / animation stand at Crescent Beach 1970, with Razutis making 'AAEON'. Photo of final film optical printer at Visual Alchemy, Vancouver, 1974.

---
Historical texts as reference:

'Recovering Lost History: Vancouver Avant-Garde Cinema 1960-1969' (Al Razutis)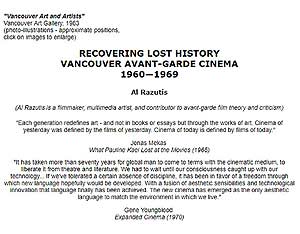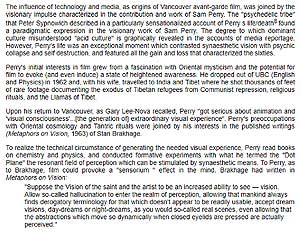 Al Razutis personal chronologies:

'Three Decades of Rage' .PDF (Mike Hoolboom)
---
Back to:

History of Visual Alchemy
Forward to:

Underground - Intermedia
Beyond Intermedia Synaesthetic - Expanded Cinema Holographic Cinema of the 1970's
Drawing on Film - Video Archives


---
[HOME PAGE]


[HISTORY OF VISUAL ALCHEMY]


[CURRENT PROJECTS - EXHIBITIONS - INFO]

[VISUAL ALCHEMY HOME]