AAEON

Film by Al Razutis
90 sec. excerpt video of 2 select sections AAEON
'head title', 'Nightwood'
from 16mm film sources on YouTube:



3 min. excerpt video from AAEON
'Nightwood' section
from 16mm film sources on YouTube: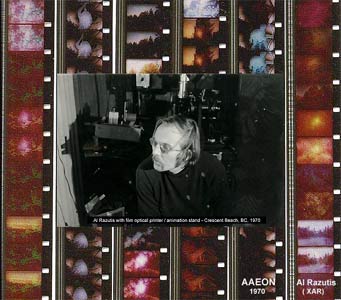 "AAEON is based on experiments with dream recollection - it is a 'dream work' inspired directly by my dreams and the recollection of the vivid imagery and fractured time that would be recalled nightly by purposely waking myself (every hour) and audio recording my recollections of the events. This project required the construction of a film 'machine', the film optical printer, which I built in various stages in 1968-1974 in Crescent Beach and Vancouver." Photo of early version of optical printer by Al Razutis.

"The film is composed of four interwoven stages or stanzas that constantly develop and redefine mythological space/time circulating around the ideas of 're-birth' (Tibetan Buddhist ideas, the Tarot, William Blake, oriental and western mysticism were some of the influences at the time) . The film is composed and edited on an optical printer effecting distortions of motion, time, composition, and colour through extensive use of 'layering' (in bi-pack printing, matte printing, step printing, colour separation, burning the film in a projection gate, infrared photography)." (A.R.)
The film was a 'hands on' project, created in the spirit of Underground and Experimental authorship where all aspects of film production (producing, directing, cinematography, editing, lab timing, original conforming-neg cutting) were created by individual filmmakers (designating 'a film by') and not by hired technicians, as in VFX department.
Original music composed and performed by Phillip Werren. The music and imagery were created as a 'synergy' of both elements. Production assistance was also provided by Peter Jones, NFB Vancouver, one of the few individuals at the NFB who took an active interest in supporting underground and experimental films of the 60's-70's. Appearing: Jurgen Hesse, Kathy Razutis, Ed Varney, and Al Razutis. Screened at the Bellevue Film Festival (1970).
In the collections of Pacific Cinematheque Pacifique, and National Film Board of Canada, Vancouver.
All remaining release prints are now stored at the Academy Archives in Hollywood, USA.
References: Photo collage of AAEON frames and film optical printer / animation stand at Crescent Beach 1970, with Razutis making 'AAEON'. Photo of final film optical printer at Visual Alchemy, Vancouver, 1974.

HISTORICAL NOTES from FaceBook AL RAZUTIS - VISUAL ALCHEMY page
Al Razutis:
Here's something related to the film that I want on this page: Film-making one frame at a time and black leader. AAEON (1970) by AR and other films cited below.
The terms 'film' and 'film by' have changed dramatically to now feature any form of motion pictures recorded on any medium (analog or digital) and to feature a bluring of authorship, appropriation, and collaboration or (paid) contributions.
A 'film frame' is something typically known to a film editor or film-maker who has access to reading the film contents in incremental frames. 60's-70's films like AAEON that were constructed 'one frame at a time' required stop-motion cameras, film optical printers, and the ability to construct frame content through manipulation of temporal sequencing, layering of individual frame compositions, and re-photography (of original film elements).
These technologies had to be built and were not off-the-shelf items like in today's media where cameras, editing software, plug-ins, and copying comes as a pre-packaged deal. This was the era of the 16mm Bolex camera (which features single-frame advance and can be easily connected to intervalometers). Not the Arri, not the Eclair, not the Bell and Howell, but the Bolex revolutionized underground and experimental film capabilities, and it was a 'cheap camera' compared to the rest.
A one hundred foot roll of 16mm film in the 60's-70's cost around $25 to buy, $20 to process (at a lab), and another $25 to copy (a 'workprint'). That's around $70 dollars for 2 minutes and 40 something seconds. It was not erasable; it was 'fragile' and subject to decomposition over time.
A couple of essays on my experiences in Europe and Asia while showing (retrospective) works may be of interest:
http://www.alchemists.com/visual_alchemy/writings/OzRetrospective.html (on EMAF, Osnabruck, Germany 2002)
http://www.alchemists.com/visual_alchemy/writings/senef2004.html (on SENEF, Seoul, Korea 2004)
Let's talk about 'one frame at a time', not just in film animation, but in film optical printing (now replaced by the industry term 'VFX pipelines'). To make films one frame at a time required some knowledge of optics, film chemistry, and 'temporal sequencing' for projection at 24 frames per second. How many new gen film-makers understand (or care) about optics, chemistry, or their own psychology and aesthetics of motion-picture? You tell me. From what I've seen, the number is few indeed. When off-the shelf at Best Buy or any tech retailer comes with 'ready made' software, how many film-makers actually engage with the 'materials of their art'? Who needs to, when the results are pre-determined by plug-ins, and the ubiquitous 'apps'? Just plug in and play, and play, and play some more. At one frame at a time, we (film makers) could control composition, time progression in film, create our own 'effects' (as they are now called) which could include travelling mattes, solarization, stop motion, backwards motion, freeze frames, step printing, and a whole vocabulary of expression. And not just 'control', but 'invent', something that is foreign to the ready-made tech of today's much valorized 'digital technology'.
Let's talk about 'black leader', a prominent feature of AAEON, where 'black' is inserted to feature 'duration' (unexpected, unpredictable, unknown), a blank screen, with no 'promise' of 'continuity'. There are a number of films that I made in the 60's and 70's that used 'black leader' to break up 'continuity': 'Black Angel Flag...Eat' (1968), 'Le voyage' (1973), 'The Moon at Evernight' (1973). These experimental films (or products of underground film as I like to call them) were not about 'visual pleasure', 'suture', or narrative strategies to 'unify the whole'. In fact, they were against that 'grain', and were created to challenge (then express) the notion of what 'film is' or 'film as film'.
They were certainly not made to satisfy a 'market need', or conform to (then) existing precedents. I'm sure they won't 'work well' on DVD and video screens, primarily because in our world today (multiple windows, images coming at you all the time, streams of content easily switchable, a simulacrum that is relentless as it is satiating for a protracted moment, a 'presence' that has no limits, and sometimes no context or content beyond 'it is' endless and proliferating.
I'll see when I view the ICPCE DVD with AAEON how I respond to the film after 43 years, knowing full well that the 'TV screen' when blank, or when filled with rapid fire imagery or layered proportions is not a fashionable exercise today except in some music videos, commercials, or 'fillers' for dreary redundant 'narrative' dramas.
====================
Received the ICPCE DVD with AEEON - the sound was COMPLETELY BLOWN-OUT, and I rejected it and sent them a strong letter with my objections. But it is the only picture transfer done digitally, the early ones being analog telecine onto 3/4" U-matic tapes...so I'll keep the picture, tried to find sound. Maybe track down Phillip Werren who made the remarkably beautiful music composition for this film and see if he has a full copy.
====================
Al Razutis:
This also completes some thoughts I have on AAEON some 43 years later: Film-making and film festivals. AAEON (1970) by AR and The Bellevue Film Festival.
In the late 60's there was the Ann Arbor Film Festival and few other fests for independent and underground/experimental film, especially around Vancouver and the North-West. When I completed AAEON in 1970, I was really broke, subsisting on loans from friends or sometimes having to 'sell things' (including bottles that I could find in trash heaps). It happens to all of us who take risks with our arts. If you haven't 'been there', but prefer the safe and tested route (from film school to industry job) you don't know what I'm talking about, and likely don't care because you might be measuring your 'film career' in terms of demo reels and who you know, what productions you've worked on, or how to hustle the rest. These comments are not for you. Exit left.
In 1970, while living in Crescent Beach BC (near the border), I completed AAEON and wanted some 'cash' (to live on). The Bellevue Film Festival - just down the highway, adjacent to Seattle, was a film fest that offered a one thousand dollars prize, was focused on independent and experimental film, had one juror, and I thought (being overly confident, and totally desperate) that I was going to succeed. Well, things turned out differently, and this is a recollection of one such 'lesson in life'.
First, the Bellevue Film Festival had a terrific mission statement, as per the following quote from Ernest Callenbach (the first juror):
"THE INDEPENDENT FILM -- meaning the film made by artists for their own purposes rather than as commercial enterprises expected to bring in a profit -- is especially important at this juncture in film history. Independent film-makers who shoot their films in somewhat the same spirit as the early pioneers of the industry, are able to adopt the spontaneous, personal approach which is becoming increasingly rare in an industry saddled with monstrous costs. It begins to seem likely that the film history of the present is being written, not on the sound stages of Hollywood, but in the garages and lofts of the shoestring artists who borrow equipment, use outdated film, and turn their friends into performers. In sorting out these excellent works from the run of independent production, the various independent film-makers festivals play a crucial role."
So, with unbridled optimism and a terrible desperation (for prize money) I set out with a film-maker friend Keith Rodan, to Bellevue to 'collect on my efforts'. Well, I didn't win a damn thing, and maybe there was (or was not) an 'honorable mention', I can't remember. What I do remember was sitting horrified in the theater watching the 'grand prize winning film' 'The Golden Positions' by James Broughton. I thought, 'what the fuck?!' I also thought, 'who is this guy Broughton anyways?' I was told: "Don't you know he's FAMOUS?" I thought, 'so what?, not knowing that the Bellevue Film Festival had indeed invested in bringing in 'names' to bolster their reputation and heighten their visibility. This agenda had escaped me, and would be 'lesson number one'.
-For the history of the Bellevue Film Festival see the on-line essay (which is illuminating): http://www.historylink.org/index.cfm?DisplayPage=output.cfm&file_id=3469
Broughton's 'The Golden Positions' is (as I recall from 43 years ago) essentially a series of still tableux, carefully composed along 'classic' lines referring to historical art works (or 'postures' as I would call them). There's hardly anything 'moving' in this film, I thought. By contrast, AAEON is full of frame bursts, colorization and mattes, explosions of form in fractured and then continuous time. I was devastated, and angry. And I left the festival screening full of a kind of 'rage' (not depression) that I would 'do more' films regardless of the 'fucking juries' and fests.
To this day, I remember both the fury and the determination, and the hardships that followed briefly as I got various odd jobs on 'Hollywood' films shot in BC ('McCabe and Mrs. Miller', and another one by Peckinpah before he was fired for on-set drunkedness), some NFB docs, that kind of thing. I also remember that this festival 'cured me' of some false ambitions ('to win prizes'), or to cultivate (network) relations with 'organizers' and the new underground/experimental 'film establishment' which was based in NYC (NY Filmmakers Coop) and SF (Canyon Cinema).
I don't know anyone (there may be a handful of people, if that) who has seen both 'The Golden Positions' and 'AAEON' (which resides in a few collections). So, any comparisons between the two films would really be impossible, except in my above stated subjective statements which can be held against me by Broughton's admirers. It's not really which film is 'better' (as if that is something important) but which film suited the moment and the institution (the film Festival).
The Portland Northwest Film Festival in the 70's provided other avenues for my works (a number of my films were screened there - the last screening being a 3D video art solo show I had back in 1998) and of course this 'Bellevue episode' was quickly replaced by all the film, video, and holographic work during the 70's that I conducted in Vancouver at 'Visual Alchemy' my under the bridge studio that was abandoned (as a location) in 1977.
HistoryLink.org- the Free Online Encyclopedia of Washington State History
http://www.historylink.org/index.cfm?DisplayPage=output.cfm&file_id=3469
The Bellevue Film Festival (1967-1981) was born in 1967 under the leadership of longtime Bellevue Arts & Crafts Fair volunteers Carol Duke and Mary Jo Malone. Most of the handful of U.S. film festivals in the late 1960s devoted to short experimental films had grown directly out of a struggling natio... HISTORYLINK.ORG
April 21, 2013 at 3:39pm
Al Razutis:
Speaking of the film itself, here's a 90 sec clip featuring three extracts as posted on YouTube flash format: http://www.youtube.com/watch?v=S4AWBrGHisk
and a 3 minute clip featuring a single extract from 'Nightwood' section:
https://www.youtube.com/watch?v=rWJ01OpLFBY&feature=youtu.be
---
> PSYCHEDELIC CINEMA > UNDERGROUND > SYNAESTHETIC CINEMA > HISTORY OF VISUAL ALCHEMY
[VISUAL ALCHEMY HOME]



[FILMS AND VIDEOS] [3D VIDEO] [HOLOGRAPHY]

[WEST-COAST ARTISTS VIDEO] [WRITINGS ON FILM]