Programming and curating:

Ilmin Museum of Art (gallery installations) -- Hollywood Theater (film and video theater)
I had little idea from the correspondence that with Felix Kim and Jeon Sung-kwon what informing principles behind film programming gallery istallation curating would be. This was due in part to a lack of English material on SeNef web sites course catalog statements were being written as program finalized. >
It was only after I arrived in Seoul that I was able to read the organizer's Ahn C Park's general curating statement, which confirmed to me why I had been invited, and also confirmed that both the film programmers and the installation curators would be acting to implement their respective interpretations of the following curating doctrine:
"SeNef has aimed to be the ground for the understanding of how image is reinvented through the new media...For that purpose, we have taken the diverse ways of screening, such as theater screening, on-line sctreaming, mobile service and gallery exhbtion. So, a number of forms...can, not only collide, but also converse with each other through the various ways of screening."
Felix Ji-Hoon Kim was my first contact and film programmer (curator) of this huge multi-genre and multi-media festival. He was overworked (programming hundereds of films, arranging exhibitions, translations, catalog materials), but tireless, and generous with his time. He was very informed of film history (having studied this subject in academics), film criticism and theory, including the French and Nicole Brenez, and to me he represented a intelligence and foresight that rivaled any film art festival programmer. His views in programming a range of works that spanned dada silents, music videos, experimental and my avant-garde films, stereoscopic 3D videos, and included digital video features transfered to film. This range of programmed works was ambitious and remarkably creative.
If you think of a 200 page catalog that is dominated by film descriptions, and which contains categories such as Digital Express (discussed at end, below), Over the Cinema, Back to the Origin, Cinema Now and Future, Mastervision and 3D, Expansion of British Cinema, Digifun Midnight, Jukebox Midnight, and which spans genres and styles including narrative, documentary, experimental, animation, interactive, web and just about anything that is a hybrid of these categories, then you can guage how complex and ambitious this programming by Felix Kim was.
This is the way cinema should be presented: in all of its past, present and future possiblities. And this type of programming is found elsewhere in Europe (at EMAF in Germany, for example). It is beginning to re-appear again in some smaller North American film festivals, especially those dedicated to 'experimental' media.
As in all such festivals, the viewer is challenged by the number of works and the impossiblity of seeing all of the works which are typically presented in several competing venues at overlapping or similar times.
My 'art film theater' presentations: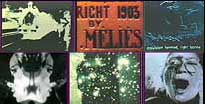 As part of my film exhibition, I presented two screenings of 'Visual Essays: Origins of Film', with new 16mm prints, at the 'art cinema house'. These 'visual essays', created one reel at a time in 1973-1984, speak to the dream-like nature of film subjects and film structure and are equally relevant in today's digital multi-media environment (where history and authenticity sometimes is completely overlooked).
These essays are very much 'about film', both in historical and formal contexts, and as such should be seen as a projected film, not DVD or tape. I enjoyed seeing this work in the context of this festival and enjoyed the after screening discussions with a surprisingly informed and engaged audience.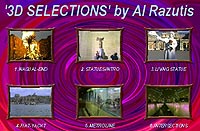 Also included in the film festival theater presentations at the art cinema house were two screenings of 'Selections', my 42 minute video program of 'stereoscopic 3D video art'. This was presented on DVD using cross-polarized dual-projection of stereoscopic video (de-mux from source). The subject matter and form are 'experimental' and a departure from the 'standard 3D stuff'.
After a first technically 'challenged' screening, where the vertical alignment of the stereo pair went awry during the screening and likely precipitated 'headaches' for some viewers, the second day's screening went without problems. The staff was better prepared the second time around, having seen what '3D' really was and how to set it up, and I was happy to see the works on a large silver screen in all of their stereoscopic versions.
No love here
The film work that I hated in the film festival was the academic, theoretical Brechtian-inspired politically correct left-wing 'bourgeois deconstruction' junk by Peter Greenaway ('The Tulse Luper Suitcases - Part II') - presented on opening night (I walked out of it half way), and the Digital Express competition entry by Trinh Minh-ha 'Night Passage' (discussed below in Digital Express). These overly hyped and 'awarded' works seem to me destined for the trash heap of history, but not without accolades and awards heaped on them by the 'Emperor's New Clothes left-of-the-indie overpass crowd of post-Brechtian reflexive school of po-mo deconstructionist theory'.
The New Projectionists - the New Cinema
"Cinema is a history of documentations and representations using the moving image as a basic concept. Artists dealing with this moving image, search for its relationship with the real world, and deconstruct and reconstruct traditional concepts of art restlessly. Last 40 years the most remarkable phenomenon is that cinema, significantly by extension to video and projected images, has moved to real spaces seeking for representing new forms and ways of applying time flow. And also by expanding to materials of digital media, film as the movement of time, and its projection gave the new paradigm to the concept of cinema. Now cinema has moved away from the traditional cinema space into the gallery space and changes its shape of physical space broadening the spectator's way of seeing."

-- Samsung Media Lounge catalog

New possibilities for cinema involves the work of Paul Marino, and his colleagues at Machinima in New York, for pioneering the concept of 'game engine' as cinematograph in this new digital cinema. Marino presented a 'filmmaking as game engine' works and contributed to a workshop and panel presentation on the subjects of VR, artificial intelligence, and the utilization of game engines in motion picture creations.

Paul Marino comes from advertising and now is producing a studio-like enterprise using game-engine technology as the key to the motion-picture production experience. And I think it really works well, and is more radical than a lot of 'experimental' works that are produced as 'conceptual investigations' on the nature of the 'photographic image', and all the other academic blah blah blahs that result in tenure these days in Canada.
This work demonstrates the shift that has taken place in terms of what constitutes 'the camera'. If the game engine can be accepted as camera, with the POV joystick in the player's hand, with multiple-user functionality, with web distribution and interaction, then the notion of 'what is cinema now' has radically shifted.
It is unfortunate, however, that the attendance at the film events was rather small, especially for the digital features. But let's not forget that the 'FILM FESTIVAL' was really a partner of the 'NET FESTIVAL' which was seen worldwide, with separate competing works, prizes, and a distribution and attendance that was internet - wide.

Jeon Sung-kwon curated the Samsung Media Lounge installations at the Ilmin Museum of Art in downtown Seoul. This was a critical component of SeNef and was declared by Ahn C. Park the interactive and installation possiblities of film. Jeon had come aboard in June-July so it was partially a catch-up experience for him; as such it was difficult for me to initially guage what was his interests and focus in curating was so we both operated on certain 'assumptions'.
There were two floors to the exhibition. The first floor featured gallery works by Kim Hee-young and a rather nuveau academic-art installation by Addad Hannah. These were joined by the one of the worst installation films ('Ipanema Theories' by Gonzalez-Foerster) I had ever seen. 'Ipanema Theories' was a film projection that featured the appearance of little if any editing. All the focus pulls, random movements, camera adjustments, false starts that one normally associates with the 'outs bin' were left in the work with the result that it appeared to have been shot by a 10 year old learning how to operate his/her first video camera. I just thought it was awful stuff.

However, also featured on the first floor was one of the best new cinema interactive concepts I had seen at the festival: 'The Central City Projects' by the U.K. artist Stanza. Quite simply, intelligently and elegantly, the Stanza works - including the variations he presented in a special workshop on his concepts and web technologies - re-define the idea of 'recording', editing, and 'projecting' film. He utilizes numerous audio - video sources from worldwide locations, combines them using interesting algorhythm editing schemas, and projects them on the world wide web using a standard (IE in the demos) browser. That's streamed media brought into the gallery and it really hit home with the workshop audience.
Stanza's work redefines 'cinema' and the 'motion-picture' experience as a programmable browsing event. Find his works on the web, you know the searchable way.
This kind of work is something the 'Frameworkers' of the 90's would have had a hard time swallowing. 'Where's the scratching on film' they might wonder in a era of browser-projected, interactive and multiple sourced films.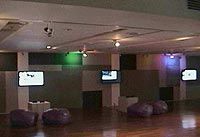 Upstairs on the second floor were my works and a installation 'Soft Cinema' by Lev Manovich, one of my favorite critical authors on the subjects of VR and the politics of the image.
Manovich, also, uses multiple-source (though not simultaneous in time) images, multiple frames, scripted sci-fi narrative, and algorhythm editing techniques to present interactive narratives on multiple monitors. The installations are accompanied by pages and pages of critical remarks to the viewer. Manovich's work was like a strange, fragmented narration which required 'meditation' rather than a 'reading'.
In the end, these pieces were too formal, too academic, too slick for me. I prefered Stanza's strange playground on the web where all things were being 'processed' by the bigger and better browsers that would project it for us everywhere and anyware. And across the way, there was my work in all its 'vulgarity' (as it was once termed, in Canada.)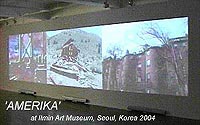 My installation of 'Amerika' in three screens was a bizarre co-tenant with the Manovich quiet, slick installation on the second floor. "Amerika' is 11 years of work, between 1972 and 1983, created without ANY government assistance, strictly out of pocket, anarchic, full of stock footage, sometimes ugly and scratched, sometimes all optical printing fx, and generally LOUD with three channels of multi-mixed mayhem. But it seemed like a 'good place' for it since it had been created in the pre-cd era and pre-laser-disc era of 'interactive' viewing. It had been created as a multiple-source, interactive structure, show-in-any-order, one-reel-at-a-time, simulacral spectacle of 'North Amerikan' image factories looking for a digital container (I couldn't afford the Laser Disc mastering costs in 1984 from Pioneer in Long Beach - 6 grand, or something like that.).
So, twenty years later, 'Amerika' was presented on 3-screens in DVD format in a gallery, across the room from Lev Manovich, the theoretician-artist, and it still 'worked for me' and a lot of other visitors because the notion of 'continuity' is really less important than the idea of 'expansion'.
Technical issues and installations:
Some problems occured in the beginning with the 'Amerika' film in particular with setting correct sound levels, or setting the DVDs to be played every hour in sync. But these were minor problems in comparison with the other problems I had when my stereoscopic 3D DVD installation.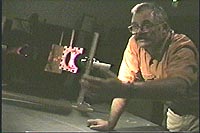 The four-monitor installation of 'West Coast Artists in Light' was presented WITHOUT 3D for a entire week because the staff couldn't figure out how to make the glasses work, not having seen 3D ever before, or so it seemed.
This was indeed unfortunate since I was hoping a simple four monitor installation with glasses would be easy to install. What I got was four lousy color monitors, one without red in its playback, and no 3D for a week.
In the future I will be more thorough in my documentation for the works.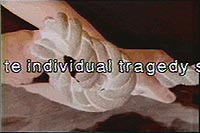 Also disappointing was the scale of the monitor presentation of 'Why Don't You Just Leave?' (co-authored with Anne Popperwell).
This piece is usually presented as a projection on a table or on a wall. At Ilmin it was presented on a small monitor in a wall, and as such, was rather difficult to experience.
What is cinema now?
The definition of 'film-maker' has changed, along with the digital and web technologies. 'Filmmakers' shoot in digital video, or film, or create digital files output on the web or rendered as...video or film or media streamed on the web. It took a while to get 'legitimized' but by now the arguments against digital videography by filmmakers are only in the dusty wastebins of 'Frameworks' archives. Editing and projection has become 'desk-top' (Premiere, Final Cut, etc.) and output includes DVD, web, interactive media.
Many contemporary fine art gallery exhibitions have discovered what they term 'multi-media installation art'. Sometimes these are nothing more than 'kinetic paintings' (for example: a video projected featuring a VERY SLOW FRAME RATE), attempting to present a simpleton's curating point of view ('see, video is like painting...'). Sometimes video is part performance, sometimes a sculpture, and on it goes. Each form of presentation / installation is attempting to re-define the media arts and in relation to other (art) institutions (e.g. fine art).
Beyond the simpleton concepts of film and video as 'kinetic paintings' is the concept that these medias have evolved into strategies of mapping and describing space and time, and our cultural experiences of space and time, in ways that are unique and unforseen. The digital evolution has created the possiblity of simultaneous projection (via the web), multiple sources, shifting and non-linear editing structures, construction and destruction of meaning, and hybrid forms which join other medias into hitherto unseen combinations.
This is not merely a 'formal' excercise. It reflects the general shift from 'classic' methodologies of image and sound creation to the experimental arts that dominate today's digital web cultures. Meditations on the 'photographic image' are pretty much 'old school' metaphysics now, on the same dusty shelf as 'modernism' and 'nihilism' and various 'national experimentalalisms'.
While on the subject of 'bad', I have to add the strangely hyperbolic 'psycho' 'horror' flick 'Jelly Dolly' by the U.K.'s Susannah Gent, a film full of incest hints, lousy sex, violent camera povs, a disembodied Freudo-father-head, a really loud horror sound track full of shock fx, and you get the rest of the Women's Studies message.
The good, the interesting, the moving and innovative included films like 'Half-Price', 'Seven Days, Seven Nights', 'Pretend', 'The Friend', 'Navel', 'Christmas' and 'Fade Into You'.