3. DOGS IN THE YARD (3 of 3)

'Toilet is plugged, dogs in the yard!'

(On Education in Film Production and Film Theory
- Vancouver 1980's to 2000)

by Al Razutis

Updated March 8, 2004

the snow doesn't give a soft white
damn Whom it touches

--e. e. cummings

American expatriate poet
dissed by the 30's leftists (as being 'too sentimental')
and author of:
'I'd rather learn from one bird how to sing'


80's Aftermaths - coming home to roost in the 90's
After my resignation from Simon Fraser University in 1987, I was unable to find an equivalent appointment and ceased all teaching activities. At the end of the 80's, on the occasion of the Toronto Experimental Film Congress, and afterwards in published interviews with Mike Hoolboom and other writings, including those posted on Frameworks, I 'burned a lot of bridges' vowing never to return to those previous 'Kanadian' 'academic' or 'arts cultural' scenes.
I returned to Canada in 1995 and took up residence on Saturna Island where I continued my contacts via the web (barely accessible on the Gulf Islands) and initiated a ambitious, though technically sparse, program of creating 3D video art. This was conducted in an environment of poverty and isolation. The cultural scene had changed. Video In and Western Front were now 'tooled up', benefiting from decades of generous government subsidy and nepotistic administrations (grants to insiders).
One never knows where the territorial 'boundries' are drawn, until one ventures into the 'yard' and is beset upon by the 'dogs' guarding the boundaries, imaginary or otherwise. Spiders in the webs in the spring yield to dogs in the yard in the fall.
During the 90's two institutional 'empires' in western Canada were built by two leftists of seemingly opposing views: Ron Burnett at Emily Carr Institute of Art and Design (formerly the Vancouver School of Art), and Sara Diamond at the New Media Center at the Banff Center in Alberta.
1990's Commissar of Education: Ron Burnett
President Ron Burnett, Professor, Doctor, previously film theory 'activist', publisher of Cinetracts (in the 80's), represents a 'shining star' success story that adds to the picture of the hows and whys of hegemony of marxian semiotic film studies over Canadian experimental film and media studies.
The student-activist Burnett, as co-publisher of Cinetracts, can credit himself with bringing in the most reactionary 'special Editor', R. Bruce Elder, during the 80's, to essentially 'finish off' whatever was serious about Canadian experimental and avant-garde film. To bring in a Calvinist writer who extolled on the film theoretical virtues of 'presences', 'absences', 'centering', 'decentering', who wrote about the 'soul' and the thoughts of saints, who praised Michael Snow's works in near mystical and metaphysical bursts of rapture was certainly a display of near-genius on the part of Burnett. Within a short time in critical publications, the avant-garde film in Canada had been depoliticized, nationalized, mystified and academically sent to the 'museum' of expired ideas. An awoved Marxist, like Burnett, must have been chuckling when the Toronto Experimental Film Congress was convened at the end of the 80's as a conference that featured the pre-eminence of a new clique in avant-garde, experimental, independent curating: R. Bruce Elder, joined by his mentor, the theology-student turned film critic Bart Testa.
President Burnett waxes elloquently on his personal school-hosted web sites, in his 'memoirs' of the 'heroic' struggles of his journal Cinetracts which he described as "exploding on the scene" with the then-fashionable blend of academic-semiotic-psychoanalytic-marxism as 'the best of the Europeans'. I suppose 'el Presidente' is allowed to publish his 'memoirs' at the expense of the institutions which serve them, and with the oinking 'thanks' of many pigs at the cultural troughs - the government-subsidized schools and cultural 'centers' (Western Front, Video In). Certainly 'comrade Burnett' is now a commissar in a 'suit', still in charge of party loyalty, and presumably headed for the 'happy retirement' of now-closeted-leftists in academia.
The clink, clink, clinks of 'success' resounds as 'el Presidente' Doctor Ron Burnett of ECIAD adds another medal alongside his 'Leninist' academic awards from bygone days. These days he is a 'champion' of new media, awarded 'Educator of the Year' (2005) by the gamers, and has announced a '3D Center of Digital Studies'. At least he has quieted dissent at his own school. The faculty is quiet. Retirement nears. And there are more current fashions in '3D' to 'promote'.
The gamers (short-term memory and all) likely don't remember that Burnett's 1990's ECIAD media departments (film, video, animation, digital) throughout the 90's were largely irrelevant to student professional (post-school) needs, driving many potential students to attend rival technical institutes (over a dozen, by last count, and growing) privately-financed, very successful, expensive, and job-oriented instutitions in Vancouver that have been teaching contemporary - digital Film, Animation, Digital Art, Web Design, Audio and Video, Multimedia, and IT.
These Technical, Design schools have sprung up in Vancouver) for newly relevant production studies, and have 'filled the void' left by the incompetence of ECIAD, SFU, UBC curriculums (the 'big three'). How else could one explain such a successful 'explosion' of alternative digital media institutions which arrived on the scene in the 90's and continuing today? The incompetence of ECIAD, SFU, UBC and other institutions in responding to the 'changing technology' in production and studios, and failing to adress new student needs is what happens in 'the old folks club' at the 'college'.
'Infantilism' and administrative hubris:
A short summary of Burnett's behaviors (1997-8), directed at me and my work is indicative of the infantilism and hubris that emanates from academics for extracting some weird infantile 'revenge' on those (such as I, writing in Opsis - Journal of Political and Avant-Garde Cinema' 1984-5 ) who 'dared' to critize 'psychoanalytic semiotic film theory' (his doctoral thesis field of study).
And even some of the faculty members from whom this information was derived were surprised at such long-term grudges. But I am not surprised. There's always more Kajas being graduated yearly.
Facts of 'psychoanalytic' interest:
My film sales to Emily Carr were 'mysteriously cancelled' at the last minute, and after a purchase order had been placed and received by me;

A job offer to teach a summer session at ECIAD, confirmed by the Dean of media studies, was 'suddenly withdrawn', and after repeated planning meetings with the dean. It was withdrawn due to 'administrative' decisions;

I was declared persona non gratis in the SGI lab on campus (this status conveyed to me by the computer services staff member responsible for the facilities); this order to exclude me from the facilities came from the 'president's office', and after I had set up a VR lab software and multiple web-sites on their computers for free as a favor to a film faculty member, David Rimmer;

My simple film exhibition fee (for appearing in a course taught by Dave Rimmer) was challenged, at the point of payment, by the President's office.
Dr. Burnett, friend of the Western Front, sitting on an empire that becamce more and more out of touch with media realities in a decade gone digital, seeing the competing film vocational institutes (Vancouver Film School, Vancouver Art Institute, Center for Digital Imaging and Sound, Vancouver Institute of Media Arts, etc.) spring up all around his ECIAD, reading the ads of the competing schools proclaim a much needed alternative to the lack of digital media education in Vancouver, Comrade Doctor Burnett finally got it 'right', and then, of course, the 'ship' set sail again with new digital 3D 'flags' hoisted, and more personal awards (how about a 'Order of Kanada'?) undoubtedly looming in the ('clink, clink!') future. Yes, O Kanada! 'we stand in line for thee...'.
Calling it like it is in the late 90's:
I posted the following on Frameworks in August 1996:
Vancouver

(razutis@xxxxxxxxxxx)
Fri, 23 Aug 1996 03:38:22 GMT


Dear FrameWorks:

I'm plunging back into your virtual space with a short report of the Vancouver, Canada, experimental film "scene" now. This is written from an island (Saturna) looking out towards Vancouver, a city I left in 1987, vowing 'never to return'.

In the 10 years since I resigned my position as head of the film and video program at Simon Fraser University (Vancouver), I've witnessed some great and abysmal things coming out of Vancouver. Most of the 'experimental' filmmakers of the 70's-80's that are now employed here at the three major film schools have ceased to make anything remotely resembling what got their appointments in the first place! At Simon Fraser, they fear video, know nothing of digital video, and are hoping to 'hold on' until retirement. Their participation and, more importantly, the participation of their programs, in the Vancouver community amounts to nothing except sparse rental of short films from the local distributor. Does this sound familiar? Do communities in Europe, the US, Asia and Africa experience similar problems with their 'once experimental', now tenured, filmmakers? My proposed solution here is to get rid of 'these bags of shit' in their tenured positions! And maybe then the university resources, libraries, production centres will become relevant to the present culture around them. (I know all about tenure, I was both tenured and one of those 'committee-servers', hiring adjutant, curriculum developers, paper publishing, grant writers, etc.) I also know that no one has any business 'teaching' from only past accomplishments with recitations of history and obscure Marxian (now Liberal) deconstruction.

It is amazing that on these very same Gulf Islands (where I now live) there is a "Film and Television School" which demonstrates a relevance to culture at next to noghing of a budget and no government subsidy. (It was started and financed by a guy named George Harris.) This school produces student work for weekly screenings (!), has incorporated digital non-linear editing, computer graphics, digital sound, and a gifted faculty and is ahead of the institutions 'for higher learning' with their megabucks in terms of preparing students for a "future". Their 14 - 18 weekly graduates will have no place to go but out of Province, and perhaps out of country to study film and video. Of the earlier experimental filmmakers, a notable exception to the Vancouver 'senecured' experimental faculties is David Rimmer (an experimental filmmaker of nearly 3 decades) - one who continues to make remarkable films and videos today. The rest of the scene has literally sold out to pension.

(LAST SECTION OMITTED)

(Full text of Razutis message: 'Vancouver')
---
Two years later, Professor Chris Welsby of SFU suddenly appears on Frameworks in 1998 attacking me with ad hominems, and ignores the core issue of technology, while confusing my criticisms of the universities with a 'personal' gripe, confusing my poverty and isolation as comfortable 'retirement', and defending his 'record' (on his way to future promotion).
Al's rant

Christopher Welsby (welsby@SFU.CA)
Wed, 21 Jan 1998 15:17:01 -0800




Hope this reaches you at your idyllic island retreat. I'm afraid I only
just recently read your letter of August '96 regarding Vancouver; I'm one
of those busy committee-serving, curriculum-developping, grant-writing
people with a full-time teaching job to do on top of making experimental
films and videos, so I'm afraid I don't get much time for net-surfing.


Just thought I should bring you up-to-date on some aspects of the "scene"
that you seem to have rather badly lost touch with, yet upon which you
still, obviously, consider yourself an authority.


For example, you'll be pleased to hear that experimental film and video is
actually alive and well at SFU. I've been Assistant Professor here since
1989 and I screen ONLY experimental work in my courses. In fact, I quite
regularly show your work in both my film and video classes. Since I joined
the faculty in 1989, the University has purchased over fifty experimental
films and videos - work that gets shown regularly, alongside as many
rentals as we can afford.


You obviously also don't know that we are busy developing the digital video
component of our program at SFU. Funding is in fact extremely difficult to
get, contrary to your na´ve fantasies about "megabucks". Where are these
wonderful "megabucks", Al? Evidently it's no longer like the comparatively
halcyon days when you were still involved. But if you'd like to donate
funds or equipment, or any other assistance, do please let us know.


(LAST SECTION OMITTED)

(Full text of Welsby message: 'Al's Rant')
---
My initial post was certainly insulting to the SFU faculty, though unintentionally implicating Welsby ('by association'), and I did offer Professor Welsby a off-line personal apology for any comments that may have been misrepresented his efforts. But the 'anti-experimental' and 'anti-digital' education climate in Vancouver (notably ECIAD and SFU) was conveyed to me by Welsby's own students and it was only then that I wrote the Frameworks post.
The facts of Vancouver's 'ignorance' in digital-media education were not to be refuted by Welsby's faculty 'spin', ad hominems or isolated examples that ignore the core curriculum streams.
My response to Welsby followed:
Gathering Evidence

Al Razutis (razutis@xxxxxxxxxxx)
Thu, 29 Jan 1998 17:23:07 -0800


The various accusations previously sent in by Mr. Welsby as to my person, life-style, and politics have been so idiotic, if not constituting slander (in the legal sense), that I want to add some replies 'for the record" and simultaneously warn Mr. Welsby of the possible legal consequences of his reckless actions should they escalate in personal attack.

Mr. Welbsy was never named in '96 messages posted by me to Frameworks, yet he associates himself with all criticisms directed at film schools. His slurs about me ("pompous", etc.), my life-style ("leisure") my politics ("right wing") reveal his ignorance on these and other subjects. Were he to contain his comments to issues of substance, then none of this would be necessary.

(Long chronology of SFU mandate, digital tech issues, graduate program, Welsby's role, and documented details of complains follows
- this SECTION OMITTED on this page, but see link below.)

(For full text of this message, see : 'Gathering Evidence')
Six years later SFU and ECIAD are behind in digital media education, Welsby is now a tenured and promoted Associate Professor, and all the words below are simply archived for the 'historical' perspective that university programs tend towards irrelevance as faculty retirement age approaches.
---
MORE DOGS IN THE (VIRTUAL) YARD: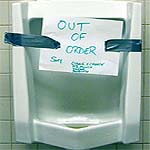 And during the 90's, particularly with regards to my postings on Frameworks, Chuck Kleinhans (Associate Professor at Northwestern University), an awoved marxist with a penchant for psychoanalytic film theory and 'third world cinemas' was lurking on Frameworks, shooting in the dark, and with obsessive slanders against me (who was no longer on Frameworks) - offered at infrequent intervals - and only on the the spider-driven searchable world wide web.
What's notable about the behavior of Kleinhans (who I have never met), is that it features a 'predictable paranoic response' (and imagined 'slights') that emerge every several years, and without provocation, but which harbor a a voyeuristic tendenency to scavange and lurk on the web with presonal grievance.
Rather than contribute to scholarship, critical understanding of media, or foster and encourage experimental and avant-garde film art, some academics / writers become 'phantoms of (their own) opera':
Chuck Kleinhans (chuckkle@NWU.EDU)
Sun, 27 Dec 1998 08:17:53 -0600

(EXCERPT)

Sure enough, I thought that speaking directly about Jost's problems would provoke a response that would confirm the diagnosis.

And there it is in its full phallic panic state, including bringing forward his jail time as a Permanent Credential for political infallibility and concluding with a reference to Clara (who is his daughter, I take it--haven't been reading all the Jost spew) to assert his Alpha Male virility. OK Jon, we all see how big it is, now you can put it back in your pants.

Maybe we could get Al Razutis back on the list and have a battle of the Egomaniacal Super Titans.

(Full text of Kleinhans 1998 message)
This type of Kleinhans ('flaming the opposition') behavior, normally associated with alcoholism, but likely an 'obsession' of his to 'educate' the younger and emerging filmmakers on the Frameworks chat board as to the 'dangers' of no longer present contributors (like myself) and only to heed the wisdom of old marxists (like himself) is classic paranoic behavior. In the Kleihans mind there's a Klein paranoid-schizoid position with the 'bad objects' of the infantile binary those filmmakers to who he projects his own state of mind. 'Chuck is the professor', but perhaps one in need of 'psychoanalysis' of the non-cinematic kind.
Like a dog barking at 'anything' in the yard, Professor Kleinhans prefers to 'guard' the academic 'dog house' over and above contributing anything new or insightful for the avant-garde generations of new creators (which whom he appears to have a voyeuristic relationship). (See his take on 'avant-garde' in the ventriloquism of the words of others here. )
Then, several years later, Kleinhans' 'intellectual sphincter' releases another dose:
From: Chuck Kleinhans (chuckkle@NWU.EDU)
Date: Fri Feb 18 2000 - 13:47:58 PST

(EXCERPT)

We had another filmmaker egomaniac like this on the list about 4 years ago,
Al Razutis...it seems like they actually have some way of regulating their
presence on the list--maybe like those institutionalized folks who believe
they are Jesus--you can't really have two of them in the same place at the
same time.

(Full text of Kleinhans 2000 message 'Pope Jon')
Some dogs will just keep barking forever. Just when the 'urge' overtakes them 'at certain times'. 'Getting back' at people, however inconsistent the time frame, is a kind of academic 'revenge' by people 'past their prime' in creative endeavors. Kleninhans' behavior is reminiscent of the vendetta behavior of Burnett (cited earlier). And it certainly doesn't help my 'cause' when I write and post paragraphs such as this one (2003):
"Scumbags are found in every profession, and are especially prevalent in academic old folks homes (the art college, university). Caught up with their captive audiences (students desiring a passing grade), pompous in their conceits (academic appointments), they suffer the insecurity that history is not on their side, and all their ventriloquism (called publishing) and all the dummies (favorite examples) won't change the facts of what was created, what is created, or how it was created, or destroyed."
See also other critical remarks on Film Studies 101. All of which brings us "by a commodius vicus of recirculation" (as in Joyce) back to the 'Eves and Adams' of what began on page one.
Or?
WHERE ARE WE NOW?
Student-initiated correspondence on Simon Fraser University film studies 2008
---