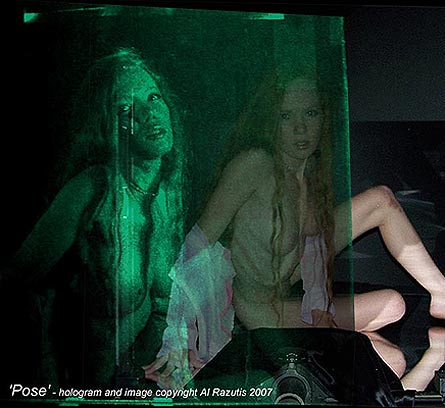 'Pose'
- master transmission hologram and model
Image, hologram and content by Al Razutis 2007, 2015
The master transmission hologram was mastered by Razutis at Laser Reflections in Las Vegas, USA, with Ron Olson acting as holo camera and processing technician. The exposure was made using a GEOLA pulsed (green) laser and all scenes were set within the existing pulsed camera (mirror) environment.
The model in the hologram and picture is Heather Carolyn, a professional model whose interest in the project was welcome.

Additional H2 transfer tests were undertaken but a achromat H2 is yet to be realized. Currently, the master hologram is available for exhibition or purchase by special arrangement with the artist and copyright holder Al Razutis.
> Exhibition card Pose master hologram

> Technical details Pulsed Laser shoot - processing
Additional images of 'Pose' are at FLASH WEB GALLERY 2007
Citations - Exhibitions
Pose hologram & photo featured in the paper "Classification of Holograms and Types of Hologram Used in Holographic Art", by Vildan Isik,
International Conference on Communication, Media, Technology and Design, Istanbul, Turkey, 2014

3D Images (anaglyph) of 'Pose' master hologram and installations by Al Razutis 2007, 2015



- exhibited at Deja Vu 2010 exhibition
RELATED HOLOGRAPHIC WORKS FROM SERIES
'Pose For Andy' Al Razutis 2015



Al Razutis, 2015
11" x 36" four rainbow holograms collage
Silver Halide WLT (Benton) transmission Holograms in glass
Installation comes with peeping apertures stand for close-up viewing
Created by Al Razutis @ Gary Cullen lab and @ Visual Alchemy, Canada
White-light illumination

'Touch Me' and 'Touch Me Not' Al Razutis 2007, 2015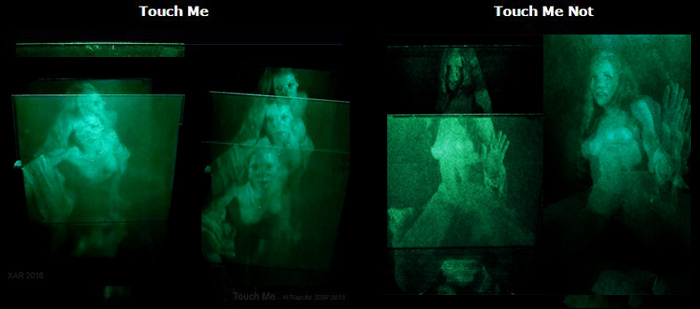 Al Razutis, 2007, 2015
14" x 20" and 20" x 24" pulsed laser masters
Silver Halide transmission Holograms on glass
presented in multi-plate installation only
Created by Al Razutis @ Laser Reflections and @ Visual Alchemy, Canada
laser illumination
Figure studies - master transmission holograms 18" x 24" & 20" x 24"
Image, holograms and content by Al Razutis 2007
Labs: Pulsed laser, Laser Reflections, Las Vegas: Paxton Holographics rainbow by Paxton, Burbank, CA 2010
For Stereoscopic 3D images of this and other works, visit: Holograms in Stereoscopic 3D anaglyph 3D

To view more holographic works for sale see Holographic art sales.