Al Razutis - General Subject Film and Video credits
---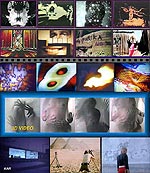 Al Razutis is the creator of motion pictures and video, in 2D and stereoscopic 3D, with photorealism and synthetic styles, in documentary, dramatic and avant-garde expressions.

He is a producer and director in the complete sense of the terms, with hands-on experience in all aspects of film and video production and post. His film and video production experience includes concept and development, production planning, financing, directing, cinematography, lighting, sound, editing, special fx, and includes compression and publishing in digital and web forms.

He has a passion for film studies and history and has taught in this field at university level film studies, wiith courses dedicated to film analysis. His published works include wide ranging essays on subjects as varied as the 'origins of cinema' and present day interactive 'cybercinema'. Some of these analytical works are expressed in the medium that they are analyzing, through re-creation and interactive means (they are published as films, tapes, websites).

His filmography features a number of award winning shorts and two avant-garde feature films. Among his awards are a LA Film Critics Award (1988) for independent film; his works are found in the collection of Museum of Modern Art Paris (2001), and other institutional and private collections.

He has worked on a variety of subjects and styles, including art, documentary and commercial productions, as well as media works for non-profit organizations.

He is a visual alchemist.

SELECTED CREDITS by category:

Documentary Videos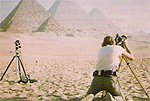 Documentaries are still a companion interest and passion for Razutis, dating back to his original involvement in 'underground film' and poetic documentaries shot in Egypt in the 70's. This documentary passion is typically expressed in his cinematography and editing styles.
His subjects can be 'ordinary street or natural subjects', holographic and 3D subjects, pro-filmic (staged) re-creations, or interpretations of the acts of 'documentation' and perception. His media range includes 2D and widescreen, with a particular fondness for stereoscopic 3D video, analog or digital, single or multi-channel, passive or interactive, disc or web formats.
He is fascinated with creativity in the many realms that motion-picture 'documentaries' take us. Whether determined by client or personal interest, each work is created in a unique style of cinematography and editing.
In the selected titles below, Razutis has acted as Director of Photography, and Director, Editor, Producer where noted.
'3D Selections' - Stereoscopic 3D Video short subjects (1996 - 2001) - Producer - director - cinematographer - Europe, Mexico, North America locations - editor - 3D stereoscopic fx Al Razutis.

'West-Coast Artists in Light' - 2D / 3D documentary video / DVD ( 1995 - 2005) on US and Canadian holographic artists - videotaped in 2D and stereoscopic 3D in various locations - Producer - director - cinematographer - editor Al Razutis. Produced with the support of the Shearwater Foundation.
Experimental and Avant-Garde Films - Videos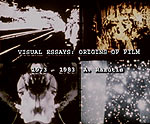 Experimental works by Razutis are typically artist-driven creations that feature an unrelenting experimental style and pushing the boundries' of accepted (feature film or game industry) norms in both content and form. They can be simple or complex, phantasmagoric or political and didactic, passive or interactive. And they are certainly not 'commerce driven' in their imaginative independence of both production means and distribution.

From digital to analog, to interventionist avant-garde motion pictures and videos, the connections in Razutis' works are there: 'Visual Alchemy' and the spatial motion-picture realities that it can conjure up, and not necessarily with 'politeness'.

On the following productions, Al Razutis has acted as Producer, Director, Director of Photography, and Editor and Special-FX artist, with credits where noted.
'Visual Essays: Origins of Film' - avant-garde multi-part feature film (1973-1984) - Producer - director - editor and optical FX Al Razutis. In the collection of the National Gallery, Canada and elsewhere. Exhibition at international invited venues continues (2004).

'Amerika' - avant-garde multi-part feature film - single or 3-screens (1972-1983) - Producer - director - writer - cinematographer- editor and optical FX Al Razutis. Los Angeles Film Critics Award, in the collection of the Museum of Modern Art (Pompidou) Paris and elsewhere. Exhibition at international invited venues continues (2004).

'SCAT!' - stereoscopic 3D film screenplay and video game - in pre-development - Writer - Director - Concept - screenplay - level design - 3D art design Al Razutis.

'Uroboros' - Virtual Reality (VRML 2.0) web installation (1997-2003) - Prod. Al Razutis & Sara Diamond - Banff Centre, Designer, co-programmer (with Linda Tauscher), graphics and media editor, lead builder and post-production executive. Containing Mpeg motion-picture maps (2D and 3D) and spatialized sound in 3D space. 'A primitive surrealist meditation chamber and proposal for a 3D drive-in installation of 3D film'. Currently on-line.

'Why Don't You Just Leave?' - video installation (1997) - Prod. Anne Popperwell, Co-Director - cinematographer - editor and video FX Al Razutis. Produced with the support of BC Yukon Transition Houses and United Way. Gallery installation or video projection piece.
Additional background and links: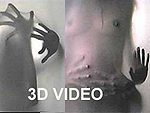 Razutis has independently produced-directed-edited a number of award-winning short subject films and videotape over the past thirty-plus years. The short-subject works geared to a avant-garde or experimental film interests are listed on the pages for art film and video art.
His present interests include interactive cinema (gameplay) and stereoscopic 3D film / video, as well as speech-interactive avatars and scenarios.
Film teaching experience

As Associate Professor of film and film studies (SFU, Canada) he also served as producer and faculty supervisor on a number of short subject student films, many of which were award winners and led their student-creators into into illustrious self-accomplished carreers in many genres of film and TV in Canada.

He also conducted teaching in other institutions (Evergreen State College, Banff Centre, Vancouver School of Art) and is equally proud of his students creative accomplishments there, and in careers of their own making.
---