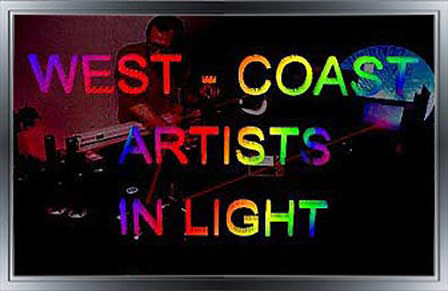 'West-Coast Artists In Light' Volume 1 and Volume 2
The Arts of Holography with continuous wave laser & pulsed laser
Produced and Directed by Al Razutis with assistance from Shearwater Foundation
A documentary video on 14 west-coast holographic artists and their works. Featuring North American holographic artists working on the West Coast in the 1980's/90's, with gallery and studio tours and personal up-close interviews.
Stereo 3D video and Standard 2D videoclips from 'West-Coast Artists in Light' are viewable on YouTube XAR3D ('West-Coast Artists 2D' and 'Holographics 3D')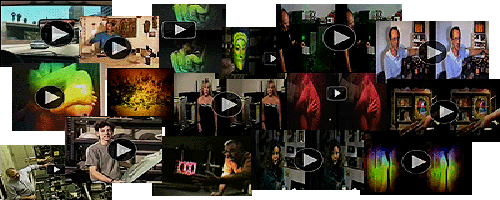 These documentary and archival projects were supported by grants from the Shearwater Foundation (U.K. and U.S.A.)
DESCRIPTION
'WEST-COAST ARTISTS IN LIGHT' is a four-part documentary project on artists - holographers - holographers working in holography on the west-coast of the U.S. and Canada during the 80's and 90's with Part 4 including works continued today. This production Volumes 1-3 were aided by grants from the Shearwater Foundation. This production is produced, directed, shot and edited by Al Razutis.
Interviews and tours of artist studios, labs and art installations reveal the history, techniques and aesthetic interests of a wide-ranging body of unique and world-famous works in the the firls of art holography. The contents of this film archive is invaluable for educators, collectors, students and art historians.
Volume One - 'Continuous-Wave Laser Holography' (33 min.) presents the varied works and personalities of 12 artists engaged in modeling objects and forms and creating holographic art using CW-laser holography.
Volume Two - 'Pulsed-Laser Holography' (25 min.), presents the live-action and figurative art of holography achieved using pulsed ruby lasers.
Volume 3 and Volume 4 continues documentation primarily in stereoscopic 3D video, a technique which conveys the holographic works in more spatial ways. Four new artists and artisans are included.
These tapes or DVDs are available only by special arrangement with the filmmaker. Earlier versions of these tapes and DVD's are in the collections of Chicago Art Institute, Ontario Art College, and other libraries.
---
WEST-COAST ARTISTS IN LIGHT - VOL. 1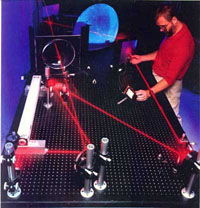 VOLUME ONE (33 min.). This program features the holographic art of FRED UNTERSEHER, ANAIT, JOHN KAUFMAN, MELISSA CRENSHAW & SIDNEY DISNMORE, DAN SCHWEITZER, BECKY DEEM, ROBERTA BOOTH, STEVE WEINSTOCK, MARY HARMAN, JIM FEROE. The artists speak of their work, influences, conceptual attitudes - illustrated in lab and gallery views, without any superimposed narration or re-contextualization.
Works presented and discussed are on the general thematic of .
Artists featured in Volumes 1 and 2 are excerpted on YOU TUBE CLIPS via picture links below.
(NOTE: To access video clips of pictorials use TOP PICTURE links to pics page - use BOTTOM PICTURE to YOUTUBE video of artist works)
'Holographic art by Anait' on You Tube:


In Memoriam

'Holographic art by John Kaufman' You Tube:



MELISSA CRENSHAW - SYDNEY DINSMORE

'Holographic art by Melissa Crenshaw' YouTube:


'Holographic art by Dan Schweizer' YouTube:


In Memoriam

'Holographic art by Rebecca Deem' YouTube:


'Holographic art by Roberta Booth' You Tube:


'Holographic art by Steve Weinstock' You Tube:


'Holographic art by Mary Harman' YouTube:
.

'Holographic art by Jim Feroe' YouTube:

These materials are available for exhibition or for sale. For more information contact alrazutis@ymail.com.
---
WEST-COAST ARTISTS IN LIGHT - VOLUME TWO
VOLUME TWO (25 min.) features interviews, holographic art, installation examples of PULSED laser holographic art. This tape features the remarkable art of UNTERSEHER, ANAIT, DEEM, CRENSHAW and DINSMORE With Fred Unterseher introducing many of applications of Ruby-Laser holography in art. The artists speak of their work, influences, conceptual attitudes within their labs and exhibition environments.
'WEST-COAST ARTISTS IN LIGHT (VOL. TWO)' - YouTube clips:

'PULSED-LASER HOLOGRAPHIC ART' - Featuring the art and concepts of:
Fred Unterseher, Becky Deem, Anait (In Memoriam),
Melissa Crenshaw - Sidney Dinsmore.
---
For availability of tapes and works on DVD contact alrazutis@ymail.com.
Vol. 3 'West-Coast Artists in Light in Stereo 3D video'
Produced and Directed by Al Razutis with assistance from Shearwater Foundation
Featuring in stereo 3D the holographic art of Sharon McCormack, Fred Unterseher, Melissa Crenshaw, Al Razutis, and art and display works by Chuck Paxton, and Gary Cullen as recorded in 3D video by Al Razutis 1996-2012.
---
Vol. 4 - West-Coast Artists in stereoscopic 3D
Ongoing 3D Video documentary on west-coast U.S., Canadian holographic artists
Produced and Directed by Al Razutis
Volume 4 continues the project in two important aspects: the continuing works of Al Razutis, the last remaining practicing west-coast Canadian holographer and the guy who brought holographic art to Canada in the first place, plus the new research and documentation of the Sharon McCormack Collection and Archives. In this stereoscopic 3D volume the works of Al Razutis and Sharon McCormack, Multiplex Company, SF School of Holography come to life in spatial 3D forms and videos!
This volume will endeavor to expand on works being conducted today by other artists and display artisans is they are located and available.
>> Page on Volume 4 artists and works
Sample new releases - From West-Coast Artists 'VOLUME 4':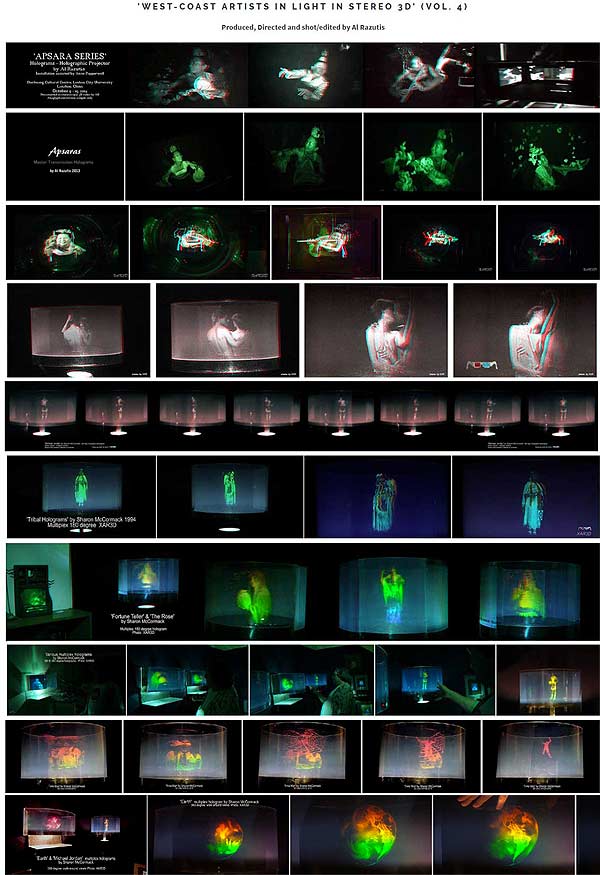 Available for exhibition or sale. Contact alrazutis@ymail.com.
Stereo 3D video and Standard 2D video clips from 'West-Coast Artists in Light' are viewable
on YouTube XAR3D CHANNEL ('West-Coast Artists 2D' and 'Holographics 3D'):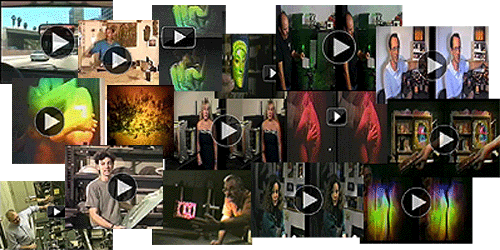 ---
PRODUCTION BACKGROUND
The production features artists and their works in this original tape version as they present seminal ideas and expressions which defined the Art of Holography in the 70's, 80's and 90's on the West-Coast of North America and world-wide through the dissemination of international exhibitions. This tape is a 'virtual encyclopedia' of diverse approaches and creations displayed in personal studios of artists in California and western Canada.
Interviews of the artists were conducted, over a two-year span (1995-97) by Al Razutis and initially this work co-produced with Sally Weber with the assistance of the Shearwater Foundation.
Upon Ms. Weber's departure from the project in 1997, the project was continued by Razutis until completion as tape/DVD (parts 1 and 2), and further completion on DVDs (part 3).
Additional footage by Razutis in stereoscopic 3D was shot independently in 1996 - 2002 for 3D INSTALLATION DVDs exhibited in 2004 at SENEF, Seoul, Korea; currently excerpts are posted on line as short excerpts on YouTube - XAR3D CHANNEL.
Al Razutis continues this project in a new 3D VIDEO VOLUME 4.
From approximately 60 hours of interview and location footage, including rare historical footage, a four-part documentary has resulted, created by award-winning video artist, holographic artist, and critic, Al Razutis.
Principal funding for this documentary video was provided by the Shearwater Foundation and Rosemary Jackson, with a next phase of support by the Shearwater Foundation and Andrew Pepper.
Further and continuing funding for this project has been provided independently by Al Razutis. Studio, camera, and post-production assistance was provided by a a number of individuals credited on the respective volume pages.
Project Credits
VIDEOTAPE CREDITS (Pts 1 & 2):
PRODUCED, DIRECTED, VIDEOTAPED
by Al Razutis
MUSIC COMPOSITION
Victor Ralys
SECOND UNIT VIDEOGRAPHY
Sally Weber (Part One only)
EDITING AND POST-PRODUCTION
Al Razutis
POST FACILITIES
Video Iguana & Al Razutis
3D COMPUTER HEAD TITLES
Chuck Paxton
INTERVIEWS CONDUCTED BY
Al Razutis
Sally Weber (Part One Only)
PRODUCED WITH THE SUPPORT OF
The Shearwater Foundation
and Rosemary Jackson, Andrew Pepper
Note to Educators:
These tapes/DVDs/web clips contain valuable historical and artistic records (of works and personalities) not normally gleamed from reviews or 'gallery statements'. Much of this technology (and labs) has vanished, many of the artists have stopped production. For those - students, novice holographers, collectors and critics alike - this material represents an important contribution to an understanding of how this medium 'began', 'who did what' and how it 'fits' into the scheme of 20th century art.

Additionally, this material is invaluable both as a teaching tool (to stimulate discussion, exploration) and as an archive of information on the works and thoughts of these unique artists. Be sure to consider purchase of this series for your curriculum and library.

All inquiries for exhibition or purchase please address to: alrazutis@ymail.com
---
Meanwhile, at the Royal (Holo?) Graphic Society...
Another 'unsettling' experience in Wonderland
MAD HATTER'S TEA-TIME WITH ALICE
Now EVERYONE sitting at the tea-table was in a fuss! Arguing, making faces, and even worse....making suggestions as to 'what was IMPORTANT, what TO SEE, what NOT TO SEE, who was IMPORTANT, who was NOT...and even worse, HOW to photograph the 'Royal What's-Er-Name' and Her Royal Collection of diffraction gratings!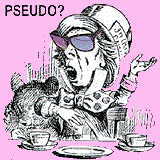 With all of this commotion, Alice couldn't even BEGIN to sip her tea, until, that MAGIC MOMENT OF SILENCE decended upon everyone. That was the very moment when the Mad Hatter, who had started this commotion in the first place by ASKING ALL OF THE WRONG QUESTIONS, suddenly produced a peculiar set of LOOKING GLASSES, something he called 'THREE-DEE'...
And Alice, once she composed herself, and had a chance to actually examine these 'weird looking-glasses', finally asked the anxious Mad Hatter: "Sir, I know this might be naive, but...with all the difficulties that people have documenting these 'strange looking-glass holograms', which m-m-m-medium offers the best possible results, to Her Majesty's Royal Holo-Photo-Graphic Society, if you please?"
There was a hush, a silence, and all the tea-tottlers, including those wearing funny pendants around their necks, looked anxiously towards the Mad Hatter.
And the Mad Hatter, sensing the nature of this 'August and pregnant moment' replied: "To which? To here? Ah, yes... TO HERE!", and spilled his tea.
XAR
'Tea Party Group Photo' or anaglyph 3D

'Tea Party Group Photo'

Don't miss:

'Alice visits the... 'ROYAL HOLOGRAPHIC ART GALLERY''

Alice asks: 'Is it Science? Is it Art?'

The Mad Hatter's Holo Wanker TV

'ALICE and the CATERPILLAR'

'THE CATERPILLAR'S NIGHTMARE'

or return to ALICE SITEMAP and MIRROR
[TOP OF PAGE]

[ VISUAL ALCHEMY HOME PAGE ]

[3D VIDEO] [HOLOGRAPHY AT VISUAL ALCHEMY]

[EXHIBITIONS PROJECTS]