'West-Coast Artists in Light in Stereo 3D' (Vol. 3)
Featuring the holographic art of FRED UNTERSEHER, MELISSA CRENSHAW, SHARON MCCORMACK, AL RAZUTIS,
and display holography by CHUCK PAXTON and GARY CULLEN in 3D./p>
Holographic artists and display specialists were photographed by Al Razutis using stereoscopic 3D video cameras between 1996 and the present. These are unique historical and cultural recordings of the pioneers of holography in stereoscopic 3D which retains the spatial characteristics of the holograms and artist labs.
'The Virtual Body' and other figurative notions, as realized in holography - A four-channel (four monitor) installation version of these contents were presented in 2005 at SENEF, Seoul, Korea.

Fred Unterseher presents his works
3 min. excerpt onYouTube 3D:




Melissa Crenshaw presents her works
3 min. excerpt on YouTube 3D:




Gary Cullen presents his works
2 min. excerpt on YouTube 3D:


The available DVD material features the holographic art of FRED UNTERSEHER, MELISSA CRENSHAW, SHARON MCCORMACK, AL RAZUTIS,
and display holography by CHUCK PAXTON and GARY CULLEN in 3D.

Navigation (installation DVD) via MULTIPLE CHAPTERS - all contents stereoscopic



Information how to view FIELD-ALTERNATING 3D VIDEO

Prod./Dir. by Al Razutis - Visual Alchemy
Post-production funding assistance by Shearwater Foundation
and Chuck Paxton facilities at Paxton Holographics
Copyright Al Razutis 2016, all rights reserved.
Availability of materials on DVD by contact only to alrazutis@ymail.com.
Stereo 3D video and Standard 2D videoclips from 'West-Coast Artists in Light' are viewable on YouTube XAR3D ('West-Coast Artists 2D' and 'Holographics 3D')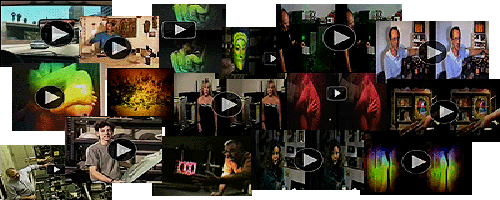 More on the background to this project: West-Coast Artists in Light - legacy video/DVD
[ West-Coast Artists in Light - MAIN page ]
For more examples of works by A. Razutis, M. Crenshaw, G. Cullen, as exhibited in 2010, see:

'Deja Vu' Exhibition of Holography and Stereoscopic 3D
[ HOLOGRAPHY - VISUAL ALCHEMY ]