WAVEFRONT, Summer 1992
LOST IN TIME AND SPACE
by Al Razutis
"IMAGES IN TIME AND SPACE" is a major collection/exhibition of historical and contemporary holography which is now in serious disarray. Plagued by administrative chaos, financial collapse, and scandal, this exhibition of historical milestones and artistic masterpieces - once the pride of the World community - is now in jeopardy. To fully appreciate the magnitude of this debacle, WAVEFRONT presents a chronology of the events leading up to the current situation.
THE HOLOGRAPHY SHOW OF THE DECADE
In 1986, IMAGES IN TIME AND SPACE was organized by Associates of Science and Technology (A.S.T.) Inc. (Ottawa), an umbrella organization created to promote "awareness of Canada's scientific and technological heritage ant the impact of science and technology on Canadian and world development".1 As a non-profit corporation, A.S.T. was funded by grants from the Department of Communications, Canada, and operated with the support of the National Museum of Science and Technology (Ottawa). Its mandate was to act as a resource for Canadian science and education institutions and to organize and promote the collection/exhibition. Among the aims and descriptions published by A.S.T. and the Museum, the following are particularly noteworthy:
"Holograms in the collection of IMAGES IN TIME AND SPACE have been acquired through a purchase fund established to create a permanent national collection of holography...IMAGES IN TIME AND SPACE is produced by the Associates of Science and Technology (AST) Inc. under the auspices of the National Museum of Science and Technology with whom AST plays a partnership role in making Canadians aware of the role of science and technology in Canadian culture."2
This impressive collection, curated by Sidney Dinsmore (art) and Deborah Duston (science), was an ambitious undertaking to represent the most important examples of the different applications of display holography. Numerous holograms were purchased; corporations and scientists donated work to the National Museum and loaned many other significant works to A.S.T. in order to broaden the exhibition's scope.
The pieces donated to the Museum, and those loaned to A.S.T. for a specifies term (15 to 36 month), constituted a major portion of the exhibition. As such, the loans represented a special 'vote of confidence' to the exhibition by those lending the work (Polaroid, IBM, Xerox, the U.S.S.R. Academy of Sciences, as well as numerous individual scientists and artists).
IMAGES IN TIME AND SPACE first opened at Montreal's Expotec in 1987. With over 170 historical, scientific and artistic works, all within a single venue, IMAGES... drew large crowds, estimated at 250,000, in its first three month period. Billed by it's organizers as "the most significant international holography exhibition of the decade", the assembled exhibition/installation required over 10,000 square feet, and a labyrinthian maze of gray modular posts and beams, supporting gray carpets and light fixtures. At this point everything seemed promising - big budget, lots of press, and huge crowds.
MOVING SOUTH TO THE PROMISED LAND
After exhibiting in Montreal, then Ottawa, and unable to immediately secure further Canadian venues, IMAGES IN TIME AND SPACE made a move south of the border in 1988, where it found a temporary home in San Jose, California. A U.S. Customs import permit was issued for one year. At the conclusion of their 1989 stint in San Jose, the organizers once again found themselves unable to secure a venue in Canada (the deal for Harbor Front, Toronto, suddenly fell through), and the entire show (including the Museum donations, AS.T. collection, and works on loan) was relocated to San Francisco's Fisherman's Wharf. Here, in the summer of 1989, serious problems occurred.
Thefts of (borrowed) Russian holograms were recorded, management strife ensued. Warna Roa, Executive Producer of the exhibit, resigned. Dr. J. William McGowan, formerly the Director of the National Museum of Science and Technology (Ottawa), and one of the founders of A.S.T., came 'to the rescue' and took over personal management of the show.
Dr. McGowan's tenure as Director of the National Museum and principal organizer of IMAGES IN TIME AND SPACE had been clouded by what some claimed to be a 'conflict of interest'. In 1986-7, shortly after the creation of AS.T., a brief news item run by a CTV (television) affiliate, CJOH, questioned the legitimacy and legality of A.S.T. operating out of government premises (the National Museum). The circumstances surrounding McGowan's sudden departure from the position of Director of the Museum, and subsequent arrival in California, were therefore somewhat mysterious.
Once in California, McGowan terminated the operations base of A.S.T. in Ottawa and moved all the files into his Los Angeles office. According to Warna Roa, this action was taken unilaterally. However, in public (statements) McGowan claimed that the A.S.T. board had resigned, and that he alone was left to administer all operations and the collection.
ESCALATING DEBTS IN SOUTHERN CALIFORNIA
Rather than return the exhibition to Canada, in 1989 McGowan decided to venture further south to Los Angeles (Museum of Science and Technology, Exposition Park). The Customs permit was extended; Elena Rotella joined the exhibition and soon became McGowan's administrative assistant, performing numerous tasks on behalf of the show and collection. It was in L.A. that more serious problems developed: the show began to incur huge debts, forcing McGowan to borrow against the inventory - namely the collection. McGowan claimed that inefficient and overly costly P.R., low attendance, and high rent were to blame.
At each venue, the exhibit had required the services of skilled holographers to assist in installation: Deborah Duston, Sydney Dinsmore, and Melissa Crenshaw in Montreal; Bob Hess in San Francisco; Gary Fisher, Becky Deem and Fred Unterseher in Los Angeles. Dr. McGowan's onsite role was that of both administrator and exhibition 'host'. According to a Los Angeles Times story (March 24, 1990) by Sheldon Teitelbaum: "One of the most startling sights is the lab-coated, bespectacled, eminently cheerful scientist who, hanky in hand, appears to wander after visitors, chatting them up and cleaning up any smudge-marks they leave on holographic plates." As the story noted, it was also Dr. McGowan's interest to draw "young people back to science".
The Exhibition Park venue closed down due to escalating debt, and high rent. Part of the inventory and supplies went into storage in Inglewood, Calif.. In August 1990, McGowan moved most of the exhibition into two venues, thus splitting it into two parts: a dilapidated public school library in Pasadena and a small store-front mall space in Santa Monica.
LEGAL ACTION AND THE EXPIRED LOANS
Unknown to many in the holography community in 1990-91, the exhibition inventory was filled with loan items whose term had expired. Some, however, began to offer serious questions with regards to the exhibition's management and commitment to these loan agreements.
Back in Ottawa, the National Museum became alarmed at the possible loss of holograms which had been donated to the Museum. These holograms were also part of the Californian extended tour and the Museum wanted their immediate return. Repeated requests went unanswered. Finally, Los Angeles lawyers were hired to secure a court order for the return of the work. Because the world holography community is scattered and fragmented, and because there was no central clearing house for information as to the whereabouts of much of the work, or its condition, some confusion existed. Each lender seemed to be on their own. The Museum's action was described in Deborah Duston's written report to the National Museum in 1991:
"Half (of the holograms) were returned by McGowan after over a year of requests and then by court order in L.A.".

Duston's "N.M.S.T. Hologram Condition Report", July 1991, bears further reprinting in part:

"Six of the twelve holograms examined do not constitute the collection donated to the National Museum of Science and Technology. Three holograms form a set which is on loan from Xerox Corporation and should be returned to the lenders...10 items from the donation by Dr. Jon E. Sollid are skill outstanding as well as the balance of the NMST donations list including a stereogram of computer generated model...by Lee Lacey...the condition of the returned NMST items is generally inferior to their condition when acquired in 1987."

Duston ends her report with the following summary:

"It is quite clear from the items sent to NMST and the quality of the conservator's report prepared in California that the administration and curatorial support for this collection is completely lacking and that the entire collection is as a consequence, at high risk."
As for A.S.T. and Dr. McGowan, the specified loan period for the various works on loan, from corporations and individuals, ranged from 15 months (Polaroid Collection) to 36 months (Upatnieks - Environment Research Institute of Michigan), with many others specified at 24 months. By 1990, all such loans had expired.
Dr. McGowan was now in a foreign jurisdiction - the U.S. - and the whereabouts of loaned pieces (and their return) could not be easily verified. What's more, this exhibition had been imported into the U.S. under temporary bond, and U.S. Customs served McGowan with notice of bond forfeiture and fines. Both Elena Rotella and Sylvia Cabiran have stated that the U.S. Customs claim was outstanding (to the tune of $7-10,000).
Having, myself, lent a piece to A.S.T. (NEWTONIAN GALACTIC ASSEMBLY LINE), I spent some time trying to track it down, finally locating it in August 1990, the same time the show arrived in Pasadena. My 36-month loan period was similarly expired, and I was owed money by A.S.T. However, McGowan persuaded me to extend this loan (along with other works), this time for free, citing that these two 'new venues' would provide opportunity for 'added exposure' and 'possible sale'. At that time I had not realized that much of the work on exhibit featured loans long overdue.
It was also in Pasadena that I became involved with supervising installation, along with Elena Rotella. Much of the hardware (lights, tracks, display units, etc.) was in a state of disrepair, near exhaustion. By August, the Exhibition was installed in its cramped new quarters and in minimum time. There was little money available, and although I was paid for my work, I discovered later that the permanent staff (Rotella) received little or nothing. The plan was that the Pasadena show would make money through admission fees ($3.50). This was a gross miscalculation. Audience turn-out was small; press coverage, sparse.
During this time, Fred Unterseher was conducting workshops in conjunction with the exhibition, and Dr. Colleen Fitzpatrick lent technical assistance and administrative support; Rotella continued to operate the shop and maintain the show. She also lent 'personal funds' (loans and use of credit card) to keep things afloat.
THE THEFTS: THE BEGINNING OF 'A SABBATICAL IN HELL'
The earlier thefts of Russian holograms in San Francisco had been so far unsolved. Then in August of 1990 - a month that would become strange indeed - the storage facility in Inglewood was burglarized several times, and office furniture, a-v equipment, and supplies looted. Then, on consecutive Sundays (August 12/19), the Santa Monica venue was twice plundered of selected holograms. The second time, thieves actually helped themselves while police were investigating security of the building in another space. The stolen holograms made up an impressive and eclectic list (see Appendix A). The staff were in tears; McGowan was quoted in the press as living out a "sabbatical in Hell" and he was demoralized. Not only was he in debt - he claimed in published press reports to have invested approximately $300,000 of his own money in the show - he also stated that the show's owners (A.S.T.) were in debt to the Royal Bank of Canada to the tune of approximately $500,000. Press reports circulated only bad news, adding that McGowan had been twice mugged on the L.A. streets, an exhibition assistant's car had twice been stolen, and...there seemed to be a kind of perpetual panic in the administration of the show.
When the partially empty Santa Monica show soon closed, the remaining holograms were transferred to Pasadena causing more clutter and ad hoc installations. On another front, Becky Deem, Fred Unterseher, and Dr. Colleen Fitzpatrick distanced themselves from the overall project, citing problems with the nature of the operation. McGowan complained that he was putting in all of his life's savings, all of his energy into an exhibition which was not even in his own field (since he is not a holographer but rather a scientific enthusiast for the medium). The Pasadena show had become a financial disaster, for McGowan and Rotella, and also for Bill Hilliard, owner of the holo-boutique'.
Hilliard's investment had been considerable: at his own expense, he had stocked the shop with holograms and had loaned pieces to the main exhibition The return on his investment was small; his holograms were among those stolen in Santa Monica. Elena Rotella finally left the show, claiming she was owed in excess of thirty thousand dollars (the sum by her recent accounts is closer to 50 thousand) by McGowan for several years' wages and for the direct loans she had to make to keep the show going. In Pasadena, Bill Hilliard's boutique was the predominant source of income for the organizers (McGowan) and Hilliard complained that he was not being adequately paid for sales and that inventory control was non-existent. Press reports continued to recite Dr. McGowan's woes. Sylvia Cabiran, a lawyer and enthusiast for holography and its future importance, joined the organization in 1991, as administrative assistant. Soon after, she concluded that she was also expected perform numerous tasks (e.g. shop management, exhibit installation and maintenance, public relations, administration, letter writing, application for grants and support, run errands...) for no wages. Other tasks were performed by unpaid "volunteers" which McGowan constantly recruited from local high schools and colleges. Throughout this time, McGowan claimed there was "no money" - the show had no cash flow and mounting debts - and that somehow McGowan himself was the victim of some sort of 'bad karma'.
THE NEW AGENDA: TO SELL OR NOT TO SELL THE SHOW...
During this traumatic Fall ('90-91) in Pasadena, Dr. McGowan indicated new ambitions to change the mandate and direction of the exhibition. First, he publicly stated his intention "to incorporate IMAGES IN TIME AND SPACE as a non-profit corporation in the Sate of California"3 and to find a corporate sponsor who would purchase the show, in its entirety and donate it to this new corporation (as a tax write-off). In preparation for this, he had commissioned two independent appraisals (by Gary Zellerbach and Bill Hilliard) which valued the entire exhibit at approximately $1.5 million dollars. These appraisals, combining holograms and installation hardware, educational materials and curatorial work done to date, were itemized yet functioned as a 'blanket' statement (i.e. combining total assets, including works on loan).
Secondly, McGowan wanted to find a "permanent home for the Museum", preferably at a new "Science Center" he had proposed to various officials (associated with JPL Cal Tech) in Pasadena. He also published a release which read "We have thus far received nearly $100,000 in support and in kind services from a number of organizations...which is presently assisting us with space for the Exhibition..."4.
These public declarations and attempts to find a "permanent home" for the collection were at variance with the original mandate of IMAGES IN TIME AND SPACE: to tour the exhibit within Canada and return it to the Museum of Science and Technology where it could reside as a Canadian resource. The A.S.T., in "partnership" with the National Museum, acquired holograms "through a purchase fund established to create a permanent national collection of holography." This collection, funded by agencies in Canada and therefore belonging to the people of Canada, would under this new plan be permanently housed in Pasadena, California.
There was still the issue that had remained since the show went on tour: significant portions of the collection were loan items, owned by scientists and artists and corporations, and thus not the property of A.S.T. or Dr. McGowan. These could hardly be lumped together with the permanent collection, be mortgaged, or held as loan collateral. Yet, most representations made by McGowan never acknowledged this fact.
On my return from Mexico, on September 13, 1991, McGowan signed an agreement with me to offer the Exhibition for sale for a minimum sum of $800,000 to any qualified and interested buyer. (This figure was arrived by McGowan on the basis of adding the sums of debt he claimed were owed to the two major creditors: himself and the Royal Bank of Canada.) My broker's fee would be 10%. (At that point, I did not realize the implications of this agreement.) He signed 'on behalf of A.S.T.' even though he had effectively liquidated A.S.T., closed its office in Ottawa and taken over its records. There was a question as to who was the legitimate 'seller' and whether this proposed sale could be construed as fraud.
The Zellerbach/Hilliard assessments, which I examined, contained the combined listings (loans and purchases) for the collection, and in a matter of months were out of date. The exhibition was deteriorating. Some holograms listed in the inventory were missing in the Pasadena collection; the equipment, as noted earlier, was in a state of disrepair. Therefore, it seemed, Dr. McGowan was looking for someone to buy a collection, of questionable title and ownership, whose assessed value was diminishing month my month.
McGowan's other plans, the California incorporation of his new "non-profit" organization, "Images in Time and Space Inc.", with himself as Director, had gone ahead, and by 1991 he was soliciting funds via letters to foundations. This new corporation would presumably allow McGowan to transfer the collection (to any facility including the proposed Science Center) and maintain control of it in its new home: if he could find someone to 'pay off the debts' that he (and presumably the non-profit A.S.T.) had incurred against the collection.
McGowan's grand 1991-2 aspirations towards a "permanent home" for the exhibition obscured the real problems: both McGowan and the Exhibition were on the edge of bankruptcy. No cash flow existed. Staff were 'volunteers', audiences were minimal: on some days, no one at all came to the exhibit. Perhaps it was McGowan's tenacity that made them continue, perhaps there were other agendas...One thing can be noted: it didn't seem to strike McGowan that there were fundamental problems with the scale and concept of the now traveling show, with the cumbersome installation design, with a confusion between science and art venues, with administration. And a confusion as to what direction to take the show, where, and with what legal authority...
Bogged down in Southern California, Dr. J. William McGowan, former museum director, was sitting on a deteriorating world-class collection of historical, scientific and aesthetic milestones, riddled by thefts, unable to administer or conserve it properly.. and in a media-hype landscape dominated by Disneyland, Universal Studios, Magic Mountain...and he was adamant that his "museum" would find a "home", with him as director.
DIVERTED INSURANCE PAYMENTS AND LOSS TO THE LENDERS
The San Francisco and Santa Monica thefts remained unsolved throughout 1991. Lists of the stolen holograms were published, the community alerted. The insurance settlement was slow in coming, and when it came (along with increases in premiums and deductibles), the proceeds were directed by Dr. McGowan to the show's creditors (banks) with portions reserved for Dr. McGowan's living expenses (rent and overhead). The stolen work, comprised of pieces by Margaret Benyon, Fred Unterseher, Alexander, Steve Benton, Gary Fisher, John Kaufman, and other artists, and commercial pieces loaned by Bill Hilliard to the show, were mostly loan items. and those were not the property of A.S.T./McGowan. This became a major controversy and a serious challenge to McGowan's credibility. It is noteworthy that presently, over a year and a half after the insurance settlement, neither Unterseher, Alexander, nor any legal owner, have received the proper insurance payment for the stolen work.
Just promises by McGowan of 'future payments', from 'future sources'. These facts have been corroborated by some of the artists as well as other sources, and as such constitute a serious breach of trust on the part of this show's administration. Now, further complications have developed to disenfranchise the lenders even more. In March, 1992, at least one of the works had resurfaced: Bill Hilliard announced that the "helmet" hologram had been located and presented by an unidentified party in search of a 'reward payment' (for its return). On March 17, even more surprising news surfaced. Police announced that approximately 20 holograms had been recovered. The L.A. Daily News journalist covering the story confirmed that these holograms would only be returned to the insurance company (which had paid out to McGowan) and not the lenders/artists. One can presume that this news will raise the level of outrage several notches higher.
THE FUTURE'S SO BRIGHT WE GOT TO WEAR SHADES...
In November 1991, Dr. McGowan shipped a significant portion of the show, including works on loan, to Bogota, Colombia for a hastily arranged exhibition. This collection included large format integrals, art works and scientific work, mostly with expired loan agreements. As one of the affected parties, I can state that no notice was given beforehand to export work to Columbia and no remuneration was discussed. McGowan simply did it and, in three days, he installed a show in Bogota which, according to the press releases and clippings he proudly displayed afterwards, drew large crowds. The financial arrangements of this Exhibition remained secret.
On returning from Bogota several weeks later, McGowan organized a move of the remainder of the exhibition to yet another temporary venue: the new Media City Center in Burbank, California. At a rapid pace, working almost round the clock, I supervised the installation. (I was still one of those interested in saving the collection.) Installation costs were provided by the host mall corporation: the Alexander Hagen Foundation. While the contractors and my installation team were paid a salary, Sylvia Cabiran and a host of volunteers were overlooked. Once again, permanent staff were unpaid while installation specialists were salaried. In the absence of payment, McGowan promised a bright 'future'; it was hoped that here, in this high profile venue, with a user-friendly, white-wall design, and plenty of floor space, and skill more new works on loan from Hilliard, the exhibition would attract huge crowds, make money, and put itself back on its feet.
The reality turned out differently; Dr. McGowan, always acting as a museum director, began to alter the installation, insisting that it be more of an educational institution with the following prescriptions: mall audience enters first to view the 'required videotape' outlining history and theory of holography, to read technical diagrams, and then is encouraged to proceed along a desired path, to exit eventually at the shop...
This type of 'educational experience' in a Southern California mall, with rising admission prices ($3.50, then $5), was bound to result in failure. Audiences dwindled; and Sylvia Cabiran suddenly quit, without ever getting paid or receiving her 'promised trip' to South America. McGowan sent for Elena Rotella, who returned from Montreal (to try to collect on moneys owed to her). She lasted several unpaid weeks, until she was "fired", this time without a plane ticket home.
At the Burbank exhibition, and under McGowan's management, the shop was in disorder, thefts (supposedly by the non-paid, overworked, "volunteers") were almost daily occurrences, there was no p.r., no security gate...damaged holograms, more missing (Russian) holograms...(to be discovered later, loaned to Applied Holographics).. and then in January 1992 I left, withdrawing all of my loaned work, encouraging others to do likewise.
FUTURE PLANS AND THE DISINTEGRATING COLLECTION
As of now, IMAGES IN TIME AND SPACE has closed again, and is in storage (at Media City Center, in Burbank). Part of the exhibit is still in Columbia, garnering rent (at a rate reported to be $2,000 per month). Informed sources indicate that part of the exhibit is destined to go to Korea, part is to be rented to a Hollywood nightclub. U.S. Customs is still owed thousands. McGowan has indicated, repeatedly, that if things 'get any worse' he will file for bankruptcy, effectively freezing all claims against him. Many holographers, whose work is on loan to the collection, wonder if their work skill exists, and if so, where... and Canadians wonder whether it will ever be returned to Ottawa.
While many may be angered by the lack of accountability, or loath to take legal action, others are hanging on, hoping to recover something, however minimal. Swamped by debts, McGowan remains undaunted, always on the move, planning venues, making deals with the collection.
Based on his 1991 trip to Columbia, McGowan announced his plans to establish a 'holography center' in South America, to have visiting holographers hold lectures, create a multipurpose lab facility, and to tour his (Bogota) collection throughout South America. He has been actively seeking to bring a large Russian Ukrainian holography collection to the U.S., with the intention of securing the participation of Dr. Markov from Kiev. In February, 1992, he flew to Europe to solicit support for various projects (copying 'priceless treasures'). But all is not well on the home front. There is still the matter of spent insurance settlement, unpaid holographers, expired loan agreements, and an angry science and art community looking for its holograms. The work that was sent to South America has not been returned. Verbal and written agreements for the return of the work have not been honored. I skill have in my possession a written/signed document (dated, January 22/92) from Dr. J. William McGowan which reads:
"The piece (STRESS TOPOGRAPHY: FIELD) now in Bogota, Columbia will be returned within two weeks to Razutis' sister by at the latest 15 February or one of my Russian pieces will be given you."
Another unauthorized loan, and unauthorized removal of work to another country; another expired agreement.. another Russian hologram...
EDITORIAL ON THE SUBJECT OF THIS 'VIRTUAL REALITY'
One has to wonder: 'How did it get this bad?'; 'How did this continue for so long?'; 'Who is responsible?' Was this something predicted in the early days by critics of the exhibition? And more importantly we can ask, is the remaining collection worth saving? Is the preserved history of holography, its curated science and art worth bringing back to Canada? This author believes most definitely so.
At the recent January 1992 SPIE "Holography Working-Group" meeting in San Jose, Calif., several affected parties spoke of their various experiences and problems with the show. I would hope that more of these voices are made public, and more appropriately 'on the record'. But ultimately, a proper (legal) forum must be found, and without much further delay.
And what of the collections on loan to IMAGES. and A.S.T.? The genius of scientific innovation, artistic excellence and historical evidence is represented in these contributions from Xerox, Polaroid, IBM, the U.S.S.R. Academy of Sciences, and numerous private donors. Those who respect this world-wide effort may recall such holograms as distinctive as Gabor's pulsed "Portrait", early Denysjuk-type master works, the first full-colour experiments ("Dojo", "Coloured Pencils"), the first computer-generated multicolour piece ("'Leonardo's Vision")...a number of 'firsts', which are now dispersed in various ad hoc venues, with many pieces existing only in memory and on old inventory lists. (In reviewing the exhibition's original inventory, I was shocked by the number of important works which have disappeared from sight.) And while there may be the conceit of an administration that maintains that 'we tried our best', and the cynicism of those who say 'it's too late' or 'who cares', the promise that this show made to its participants, curators, and multitudes of inspired onlookers is worthy of some fulfillment.
And let us not kid ourselves. There is no legal mandate for anyone, Dr. McGowan included, to run this collection as a proprietorship and to derive personal benefits (or losses) from its operation. There is no merit to the argument that because A.S.T. Inc. has ceased to function as an organization all rights necessarily revert to Dr. McGowan (a member of the defunct board).
Not only can we question the legality of the operation, but also the veracity of the recent statements by Dr. McGowan that the show is "insured". If there is no cash flow, where do moneys come from to pay high premiums and deductibles? Even Elena Rotella and Sylvia Cabiran, when queried about the presence of insurance, offered serious reservations that any existed. This is hardly a 'moot point', since conservation of these artifacts was both the mandate of AS.T. and the conditions by which these works were originally entrusted to the organizers.
While we might sympathize with Dr. McGowan's efforts to maintain some semblance of administration, his declared financial woes, the energy he has spent on this exhibition, we might also evaluate his threat of declaring bankruptcy (on behalf of the collection) as concurrent with his wishes to sell the show to the first buyer with "$800,000". Questionable karma?...the show stranded in storage?...no way out?...indeed.
What began as "the most significant exhibition" has become one of the most significant tragedies in holography. And these events occur at a time when the New York Museum of Holography, another large and international collection with historical milestones, has closed. (The fate of the M.O.H. collection is also uncertain.) Whether we sit idly by to see this collection destroyed or administered by receivers of questionable knowledge and origin, or rally to intervene on behalf of its contributors will determine our collective and historical legacy. For in the event of loss, the international holography community, whose history, science and art are represented in this exhibition, will be joined by the Canadian people and the organizers as innocent victims of this fiasco.
This, then, is the challenge posed to this community: 'to be or not to be' optimistic aout its future, to succumb or not to succumb to its own doubts. What is precisely needed is optimistic and decisive action, not further words and recirculation of facts. In this mannter, perhaps IMAGES IN TIME AND SPACE can be finally rescued from its tragic misadventure.
Al Razutis
Copyright, March 20, 1992. All Rights Reserved
NOTES:
1. Quoted from 1985 A.S.T. publication on 'objectives of A.S.T.'.
2. National Museum of Science and Technology brochure on IMAGES IN TIME AND SPACE, 1986.
3. 1990 status report published by Dr. McGowan on behalf of IMAGES IN TIME AND SPACE.
4. Op. cit.
ACKNOWLEDGEMENT:
Author would like to express gratitude to Deborah Duston for her help and materials supplied, to Melissa Crenshaw and Cyndi Mellon for suggestions on the early drafts, and to Sunny Bains for her careful review (along with numerous and helpful editorial suggestions) of the article.
IMAGES IN TIME AND SPACE center-fold full page ad
appearing in Wavefront Magazine Spring 1987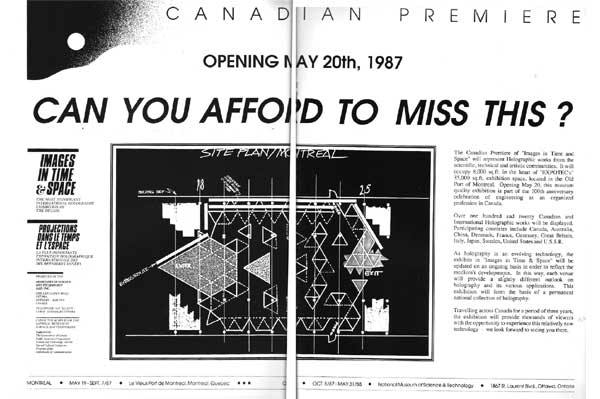 WAVEFRONT MAGAZINE - Selected Articles