WELL, LET'S CONSIDER...

...how it all began, in the 60's and 70's.... First, with the invention of the laser, then early scientific imaging expriments....no problem here. But soon, something called HOLOGRAPHIC ART is carried forth, proclaimed by artists, technicians, and early enthusiasts alike. And ever since, it - the ART - has had a 'tough' time establishing itself in media cultures and galleries of the 70's, 80's, 90's. Most people today think 'holographic art' refers to the sticker on their credit card. No kidding. Really! And many 'HOLOGRAPHIC ART GALLERIES' insist that EVERYTHING they offer, from stickers to framed 'goblins' and 'cyber creatures' IS ART. No kidding.
So...this thing called HOLOGRAPHIC ART, as a child of both scientific-technical and aesthetic parents, has 'suffered' from both a 'peculiar upbringing'...and a peculiar 'fate'.
Early scientific prejudices towards 'bright', 'noise-less', 'high-efficiency' recording and display predisposed many in these communities against 'bad technique' at the hands of 'artists'. After all, holography was simply a 'spatial imaging tool' some must have intoned. And prominent scientific-technical holographers thought nothing of including themselves in exhibitions, perhaps as 'artists themselves', and often contributing works of inane and generic subject matter rendered with 'brilliant technique'.
'Oh, look at these!'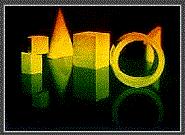 'GORO BLOCKS' by Prof. Goro

...'after all, it is still an INFANTILE medium?', she may have thought.
The other 'parent', the 'art world' has (over three decades) either dismissed holographic art as a 'contrivance', 'technical gimmick', or 'infantile medium' (presumably the same treatment afforded early photography, film, and video), or it has shunned holographic art because it can't fathom the special qualities of this new medium. (Scientific 'how-to-make-a-hologram' introductions to shows haven't helped either.) Many curators and critics alike have attempted to evaluate works based on aesthetic and historical premises borrowed from other mediums (like the 'modern art' of painting...).
And the general public finds itself justifiably confused, since all it 'gets' is what is known as DISPLAY HOLOGRAPHY.

...and, turning a corner, into the Royal Fine Arts section,
'EEK!, What's that?' exclaimed Alice

'Psycho Hands'
'Or this?'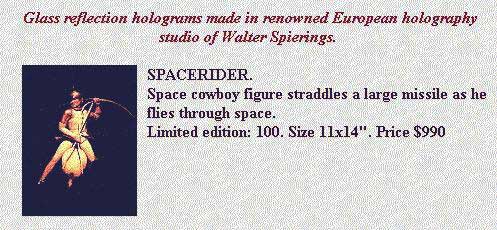 ...to the CHESHIRE CAT
who had a feline habit of appearing/disappearing while chasing it's fractal-shadows
...and by NOW was certainly in need of a EYE DOCTOR!
'What's that?', you might ask. Well, it is the CURRENT GENRE of everything 'holographic' and 'artsy' featuring a melange of embossed greetings, logos and playing cards, funny glasses, all kinds of kitch images selling alongside presumed 'renowned works of art', next to holo-store embossed holographic stickers, trinkets and dichromate jewelry...all typically thrown together and displayed in VERY 'MYSTERIOUS' retail outlets that HYPE THE 'LASER-TECH', with little said about the content of the hologram, the concepts, the histories, the ideas....

'But sir...!'

'I'm at a loss!'
'HUSH, HUSH!' said the ROYAL HUSHER 'Only PROPER and POLITE language allowed in here!' And he pointed to the signs about the place.
'But Sir!' Alice protested. 'I'm at a loss! Is EVERYONE so polite and proper in this place of CURIOS and CURIOSER?'
(What the RED QUEEN said about BEING POLITE...)
'CURIOS?' exclaimed the Husher. 'She said CURIOS!!!'

'...and to use such STRONG language in such a ROYAL and ARTISTIC, not to mention well-appointed, and quite CRAMMED with ROYAL memorabilia, and SO EXPENSIVE a place, as this...', he muttered to his two new-found selves, TWIDDLE DEE and TWIDDLE DUMB.....
!
'Oh my! Oh my! What have I done?',
Alice cried out, realizing that the ROYAL HUSHER had now split in TWO!.
WORSE? BEGETTING 'WORSE'?
WORSE THAN NEW-AGE NON-SENSE?
Actually.... it was a lot 'worse' than Alice could have 'IMAGINED'!
Because in and BEYOND Wonderland.... the MALLS of NEW-AGE 'GOOD VIBRATION' COMMERCE had sprung up ALL ABOUT:

and in 'THREE DEE LAND', now MICKEY'S OWN.....

and even in the AVANT-GARDE LEATHER SHOPS!....
(but these are stories better told and re-told by CRITICS OF, and ELSEWHERE)
'Perhaps the MAD HATTER can make some SENSE of this for me?' she wondered.
And then, realizing that HUSHERS were capable of SPLITTING and SPLITTING,
until there WAS NO END IN SIGHT of ALL THEIR 'GOOD VIBRATION' CLAIMS,
she turned to run in the direction of THE MAD HATTER'S 'ROYAL HOLO-PARTY', somewhere in a Land called 'Ventura'...
But then, all of a sudden, or once again, depending on your whereabouts, the RED QUEEN arrived and made her move!
or, conversely: 'The Plot Thickened...'
XAR