FEATURED HOLOGRAPHICS - ART & DISPLAY

Exhibition of holograms and motion Projection System by Al Razutis
Lanzhou, China, 2014-2015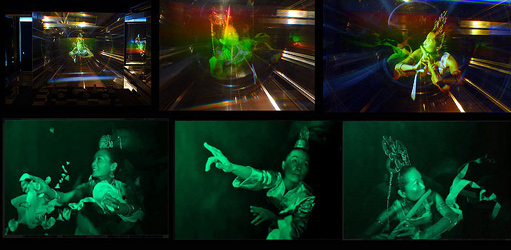 A Holographic motion projection system and siix large pulsed-laser transmission holograms by Al Razutis - "Apsara Series" are now in the permanent collection of Lanzhou City University - Dun-Huang Creative Center, Lanzhou, China and are on exhibition at the Creative Center (DCC) since October 12th, 2014.
CURRENT PROJECT 2015: HOLOGRAPHICS FOR THEATER AND CINEMA

Independent Hologrpahics Project @ Visual Alchemy, Al Razutis Project Lead and Designer/Engineer - features holographic motion-picture imaging for theater stagecraft / content, and cinema. The project development includes pulsed laser and live subject holography, optical elements and image projection systems designed by Al Razutis. It is currently in development for a wider range of applications, including education and commercial product development.
For more visuals and archival photos in 3D see > 3D photos page of holograms and exhibitions

ART SALES - Holograms by Razutis > Holographic Art Sales
3D VIDEOS of Holographic Art > YouTube - XAR3D channel
EXHIBITION and workshop by Al Razutis > 'Holography and Stereoscopy'
NSA 3D-Con July 26th-30th, 2012, Costa Mesa, California.
For UPDATES on holographic projects visit us on Facebook at

- Visual Alchemy
PAST EXHIBITIONS:
SALES- holographic works by Al Razutis on this site are > here.
ARCHIVING HOLOGRAPHIC ART HISTORY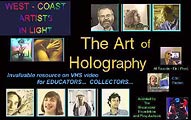 HISTORY PROJECT: 'West-Coast Artists in Light'
- 2D and stereoscopic 3D videos- excerpts on:
XAR3D channel (YouTube)

A video documentary project on holographic artists and arts, featuring interviews, lab and exhibition documentation on thirteen selected artists and two display holographers residing and working on the west-coast of U.S. and Canada in the 1990's.


CRITICSM AND WILD THINGS:
SELECTED WRITINGS: INDEX: Essays and Papers on Holographic Art
SEMIOTICS OF HOLOGRAPHY: 'Bride stripped bare...' -- International Society for Optical Engineers (S.P.I.E.), SPIE Vol. 747, Practical Holography session Chair.
AVANT-GARDE: 'An Avant-Garde for Holography...'
ON ALCHEMY 'Projecting Alchemy'
CRITICISM: Display Holography - Is it Science or Art?
3D ADVENTURES OF ALICE: 'Looking Glass and Map'


ILLUSTRATED TEXTS:
CONCEPTS: Interferometry - Time - 'Contours'
CONCEPTS: 'Holographic Hybrids'

MEDIA INTERPRETATION OF HOLOGRAPHY:
HOLOGRAPHIC ARTISTS IN 2D & 3D VIDEO: West-Coast Holographic Artists - YouTube XAR3D
HISTORICAL DOCUMENTARY VIDEO / DVD: 'West-Coast Artists in Light' 2D & 3D
STEREO 3D INTERPRETATIONS: Holograms in Stereo 3D Stills
JAVA APPLETS - HOLOGRAM TEXTURES: 'Interactive Kinetic Holos'


EARLY HISTORIES:
DETAILED HISTORIES & VISUAL ALCHEMIES: Holographics at Visual Alchemy 1973 - 1977
HOLOGRAPHIC INTENTIONS: 'Holographic Intentions' & 'Leaving Plato's Cave...'

WAVEFRONT MAGAZINE:
HISTORY - CONTEXTS OF WAVEFRONT: 'Reflections on Wavefront Magazine' by Al Razutis
COLLECTORS ARCHIVE: Index of Issues of Wavefront Magazine
ON-LINE PUBLICATION: Final Issue of Wavefront Magazine


RAZUTIS ARTIST BIO & CV'S:
List of works: Holograms 1972 - 2016 by Al Razutis
Art Bio: List of works in all medias by Al Razutis
Current Bio: Biographic Summary
Technical Bio: Holographics - 3D Resume