EXCERPTS from MS: 'THE BEAST' (Unfinished Novel and Screenplay)

by Al Razutis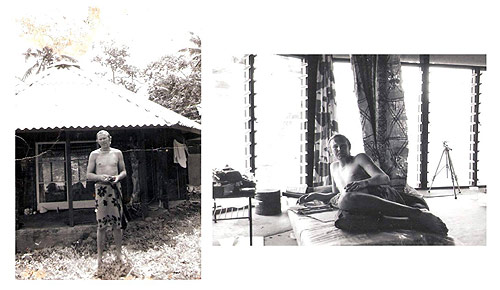 VERSIONS REFERENCED:
First MS Draft and Screenplay completed 1971, Vancouver, Canada
First Film Version and Screenplay completed 1977, Los Angeles, USA
Final Book Manuscript completed 1978, Tutuila Island, American Samoa

No record of a full intact version of any of the above has been located.
Samples below from surviving records.
---
Use ADOBE ACROBAT READER to view and read PDF files with magnification in separate window;
all other links to HTML pages or JPEGs.

---



YouTube video 90 sec. clip: Excerpts from MS: The Beast

16mm FILM page: EXCERPT FROM MS: THE BEAST -- Film Archive description
SELECTED (.PDF) PAGES: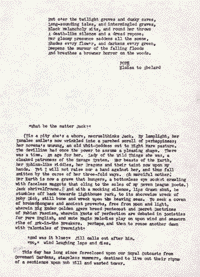 PROSE POEM MANUSCRIPT:

COVER & CONTENTS Version 1 PDF File (700K) -- COVER & CONTENTS Version 2 - PDF File (700K)

ACT 1, SCENE 1, pg. 1 Opening scene - early version with annotations suggesting other versions - PDF File (350K)

ACT 1, SCENE 1, pg. 5 "bear driver boot Arcturus with your haunting dogs" - PDF File (350K)

ACT 1, SCENE 1, pgs. 4 - 5 - &quotRemember who thou hast aboard!...Your babbling dreams afflict our souls" - Early Version - PDF File (350K)


SAMPLE PAGES FROM FILM SCRIPT - TREATMENT:

ACT 2 SCENE 2 pg. 18 "Evol evol, toll toll...and dirtyverbs..." - PDF File (500K)

ACT 2 SCENE 2 pg. 19 "...saprophetically epiriddled..." - PDF File (500K)

ACT 2 SCENE 2 pg. 20 "Who knowe ane dizzy one from rose and thorn erect..." - PDF File ( 500K)

ACT 2 SCENE 2 pg. 21 'Wrathes sea, a River Oshun wept in green' - PDF File (400K)

ACT 2 SCENE 3 pg. 30 "Charlatan! Mazemaker! What serping sea? What flood?" - PDF File (360K)


SAMPLE NOVEL PAGES:

EPILOGUES: "What be the matter Jack?"- PDF File (130K)

EPILOGUES: "Shall we take Murphy to the Gravenyard?" - with annotations - PDF File (1.4 mB)





YouTube video 90 sec. clip: Excerpts from MS: The Beast

16mm FILM page: EXCERPT FROM MS: THE BEAST Film Archives description
---
> UNDERGROUND > 'ILIUM: EXPRESS'
[VISUAL ALCHEMY HOME]



[FILMS AND VIDEOS] [3D VIDEO] [HOLOGRAPHY]

[WEST-COAST ARTISTS PROJECT] [WAVEFRONT MAGAZINE]