Introduction, by way of words, not symbols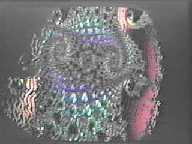 UROBOROS VRML 2.0 was an experimental virtual reality for the web site created in 1996-7 by Al Razutis and collaborators at the Banff Center (Canada). It was created at a time when VRML 2.0 was being developed/implemented and when virtual reality and animation and media (audio - video) were first being integrated as a future 3D WEB form. This creation, therefore, is on the 'cusp' of stable (browser plug-in) developments and aesthetic standards.
This site is optimized for NETSCAPE 4.x (not 6!) and Internet Explorer 4.x/5.x6.x using the plug in COSMO VRML PLAYER 2.1 and a requisite Java Virtual Machine, especially for WIN-XP which you can dowload from here. Use of other browsers and VRML plug-ins will produce unpredictable results, absent mpeg movies, color shifts, browser crashes. VRML 1.0 browser plug-ins are unsuitable for viewing this work. MPEG-1 (video-audio) and .WAV (audio) elements are embedded in objects you will visit and will be 'played' by Cosmo along with all elements of the worlds.
PC-platform VRML 2.0 players, other than COSMO PLAYER 2.0/2.1 - e.g. Microsoft's new player, tend to behave erratically when playing 'movie maps'; MAC platform VRML browsers are also problematic and not recommended. (Don't ask us why certain corporations produce softare that does not meet VRML 2.0 specs, ask them.) If your player-browser crashes, maximize your browser's cache, or avoid clicking on too many 'hot' objects (engaging movie maps). One may assume that future versions of ALL browsers will solve these dilemmas and perhaps fully support the VRML 2.0 specification.
This site was created for the web and not some high-end R & D 'cave'. PROLONGED LOADING (notably, of sound elements, and TERRA FIRMA - the world below, as well as the anchor-linked TERRANOV(A)) may be experienced by slow modem connections, but does not impede navigation. PATIENCE is required. Premature disruption of loading will result in incomplete texture maps, 'wire-frame' bounding boxes, or ABSENT in-lined WORLDS. Prolonged loading is due to the recently added AUDIO files.
---
1998 CHANGES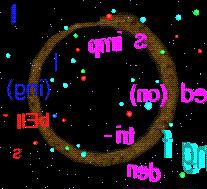 The changes and additions that were implemented in February 1998 feature the inclusion of spatialized sounds, added background STAR FIELDS, and a number of enhancements to all of the world files. Additional anchor links were provided to access both HTML pages (VISUAL ALCHEMY, CYBERTHEQUE) and newly designed VRML worlds (TERRANOV(A), and TERRANOV(S) worlds). While making the overall experience more 'dynamic' and interesting, these enhancements have pushed the 'limits' in terms of browser capabilities and download time. At this stage, and given the present bandwidth of the net, substantial additions (animations, movies and sounds) will be put off until STREAMING CAPABILITIES are in place for media files.
In most cases, these revised worlds come to you G-ZIPPED, which are then un-zipped by your VRML browser.
Make sure your Netscape or IE cache are large-enought (50 megs) to accomodate the large media file sizes; browser crashing is linked to insufficient memory and certain software incompatibilities.
Further technical-navigation information is contained in the VIEWING REQUIREMENTS section. If you are new to VRML visit the NAVIGATION TIPS page.
Test VRML 2.0 SNAKE animation is accessed via 'ALL-SEEING EYE' page.
This is also a stereoscopic 3D site, viewable with LCD shutters (with appropriate systems - e.g. SGI Indy with stereo outputs and Java control.)
---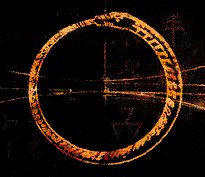 The UROBOROS (or Ouroboros), the Serpent devouring its tail, is an ancient symbol of transformation and renewal. In Pre-Christian Alchemical tradition, the Uroboros integrates the dual aspects of matter/light and anti-matter/darkness, as a 'serpent of transformation'. In Medieval-Christian mysticism, the Uroboros is depicted as the 'serpent of temptation', the origin of sin, and a challenge to 'God's (patriarchal) sovereignty' over man/woman, and creation.
UROBOROS is an interactive multi-media VRML site, created as a flight of departure from religious and mystical orthodoxies, as a exploration of the dimensions, metaphors, orbits, and names of....STRANGE DREAMS OF CREATION.


---

'Virtual Space' is anything the artist wishes it to be: a VOID with 'something' and 'someone', linking to 'somewhere'. Virtual Reality space-time is four dimensional - time 'dilation' affects spatial depiction. This is actually a site about relativistic dream-space. As such, it is both 'bizarre' and fascinating, and full of visual puns and mytho-poetic references. The worlds and objects of UROBOROS occupy a space, of unknown proportions, surprising relationships, sizes which can be deceptively 'large' or 'small'. These are multi-media worlds containing movies and sounds, and surprising links to other worlds.
VR is rendered typically in Euclidean 'three-space', is ideally presented as stereoscopic 3D views, and it is viewer - interactive. It is not to be limited by unimaginative 'worlds' (and there are many examples) featuring toy-like animals, robotic 'avatars', four walls and furniture, implying a 'familiar place' for a mundane lifestyle, bored eyes looking for 'quick hits', or the military-gamer mentality.
I chose to seek the design elsewhere: the unconscious dream-scapes, free from gravity and predictable outcomes. Aboriginal 'DREAM-TIME' is likewise not guided by suburban hi-tech materialisms, and perhaps itself is analogous to virtual space.
UROBOROS, and its five - 'VIRTUAL FLESH', 'FIELD-SQUARE', 'TERRA FIRMA', 'STAIRS', and 'CLOUD' - worlds co-existing with each other, is a navigator's space, full of 'unstable' objects. While being open to future visiting worlds, this site 'waits' as worlds in progress, guaranteed to mutate in form and content.
Also guiding this project is 'the resonance of Surreal laughter' when the subject 'defies reason'. The Surrealists, as remembered in their works, were anarchists of the unconscious. If I choose objects, as elements (of the 'semantics' of my discourse), they would contain some of the many, possible explanations: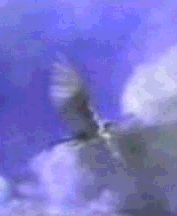 "The 'Angel's Tomb', viewpoint and objects, containing an (unconscious) joke and the paradox: an angel's flight - and its reflection - entombed; Breton's 'Severed Hand' in terra, the anchor to the plains of alchemy world; the altars of captive womankind; virtual flesh speaking statues; cloud world that becomes a poem world in space...
These are some of the elements of 'TERRA FIRMA' , viewed separately (via this link), STAIRS WORLD, and the touch-sensor 'anchor' worlds - where you LITERALLY jump from once site to another - TERRANOV(A) WORLDS , or the cloud-trigger CONCRETE POEM WORLD . Be cautious, when entering TERRANOV(A) WORLD, as it is a complex, animated, and 'growing' world...
These worlds either hang like 'mobiles' in the anarchic web of the 'unconscious'...or feature spaces of 'unknown' proportions, and sometimes the surrealist laughter at the 'accidental meeting of....'
The in-lined 'parallel' world of 'FIELD-SQUARE', which depicts the chaotic edge of fractals in parallel with the holographic (as texture and contour lines), suggests a theme echoed in the VISUAL ALCHEMY site: the paradoxical congruence of fractals and holographic (interferometric) contour lines. A congruence of form, and perhaps 'some-day' revealed content.
ANCHOR LINKS:
Touching/clicking BRETON'S SEVERED HAND...(terra.wrl) will 'take you - via anchor link - to TERRANOV(A) and ALCHEMY WORLD...
Touching/clicking a ELEMENT of the rotating CLOUD WORLD, will take you to the 'cloud of contrete poetry' - LINK1.WRL...which will take you (touch/click) to POEM WORLD...
Touching/clicking the ARCH of the TERRANOV(A) ALCHEMY - POEM WORLD will take you to (a separate) TERRA WORLD 'ENTRANCE VIEW'.
Touching/clicking the distant cube beyond the grid - the cube with the uroboros symbol - will take you to 'the end of reincarnation' cycles, namely TERRANOV(S) WORLD...
NOTE: When engaging the ANCHOR LINK, view the destination first to decide if you wish to EXIT the site, and exit VRML, since the ANCHOR LINK will close and re-open your (VRML) browser.
---
This VRML site is designed to be explored via navigation through a three-dimensional space, AS A WHOLE, with slow load-up entry and navigation 'towards' the visible world.
This multi-media 3D site incorporates sound, MPEG video textures, hot and cold objects, and features MULTIPLE in-line worlds. For slow modem connections, INITIAL download time may approach 20-40 minutes, navigation may be 'stepped' and the visitor is advised to be patient or upgrade their connection/hardware.
ALL OF THE WORLDS, OBJECTS, and relevant MULTI-MEDIA elements are loaded initially. Be patient, allow loading to conclude.
Navigation hints, suggestions, can be found at the TIPS ON NAVIGATING VRML SPACE page. By exploring touch-sensitive and proximity-sensitive inter-actions with objects, the viewer can experience the truly spatial nature of VRML 2.0 worlds.
...Serpent...Angel...Eve...and a walk through disjunctive and 'dilated' dream-time..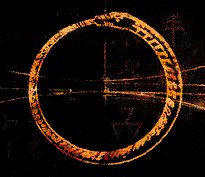 [TABLE OF TOPICS]

[SPATIAL SCHEMATIC - INDIVIDUAL WORLDS]


---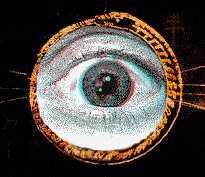 UROBOROS VRML 2.0 was created by Al Razutis, in association with the Banff Centre (Media and Visual Arts). Technical assistance was provided by the following Banff Centre consultants and staff: Linda Tauscher (Chief Computer and Programming Consultant), Tom Malaher (Programming Consultant), Don Smith (Animator, VRML programmer on upgrades), Luke Van Dyk, Mark Richardson, Paul Herspiegel, Rhonda Jessen.
Additional and ongoing production, programming and de-bugging assistance (1998-9) by Jerry Barenholtz.
Administrative support for the initial (1997) phase of this project was provided by Joy Barrett and Sara Diamond (Executive Producer at Banff Centre-MVA). Original seed grant for 3D-Video and On-Line projects provided by The Canada Council - Media Arts.
PLEASE VISIT
For a list of remarkable participants
---
VIEWING REQUIREMENTS
(1999 Texts)
BE SURE ALSO TO VISIT NAVIGATION TIPS if you are new to VRML.
WHAT YOU NEED - SUGGESTIONS FOR IMPROVING NAVIGATION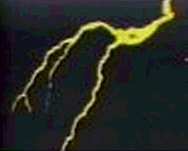 In short: a fast connection to the net, and a 3D graphics computer. For connections, something beyond a typical 56k modem is advisable (DSL, Cable, T-1); for the computer you will need lots of memory (256 megs is standard), and good video (card), with minimum 32 megs video memory, 3D graphics acceleration (ASUS or NVIDIA GE-FORCE with DDR), and fast CPU.
To view a test of a simple VRML 2.0 world, try LINK1 WORLD; another simple, but multi-media world is STAIRS WORLD. This will test your MPEG and audio (.WAV) capabilities. To view a complex world with multiple in-lines (a test of your system!) try TERRANOV(A) WORLD(S) . If all goes well, you can 'handle' UROBOROS.
WHEN YOU ARRIVE AT UROBOROS:
Be patient, allow for all the textures and in-lined worlds (seen initially in wire-frame boxes in earlier browsers) to FULLY LOAD.
The presence of large AUDIO and VIDEO files in UROBOROS means that loading will necessarily take MINUTES....or, depending on your net connection, MANY MINUTES. If you 'don't have the time'....then this site 'isn't for you'.
Navigation will depend on your video card and CPU. It the worlds load incompletely, or the browser 'crashes', maximize your cache. 'Unable to fetch' error messages are typically related to your hardware capacity, web connection, or memory capabilities. RELOAD.
This is a 'multi-media site' with video movie-maps and sound 'objects', played by the VRML 'browser' (COSMO or equivalent). MPEG movies and .WAV audio is loaded when you ACCESS THE WORLDS. After full load-up, you can 'PLAY' any of the MPEG movies by touch-clicking on the SEMI-TRANSPARENT 'HOT' OBJECT. Spatialized audio will follow you 'everywhere' you go.
However, the more movie-map objects that are simultaneously in a 'play' mode, the slower the navigation. (Some 'state of the art browsers' will even CRASH when you select more than several movie maps!) Be selective in how many simultaneous textures you turn on.
To view 3D-Anaglyph scenes (textures) use RED/BLUE glasses; interlaced images require interlaced LCD stereo-drivers and viewers.

Download VRML 2.1 Player

I am interested....
...in connecting to OTHER VRML WORLDS via anchor nodes (based on a mutual 'affection' of subject matter). With every WORLD that connects to every other, we get closer to realizing the premise that THE NET, 'in its VR and VRML possibilities...is HOLOGRAPHIC.' And I am grateful to MARK PESCE for publishing his work(s) and planting that 'vermal seed' in my head. (Al Razutis)