UROBOROS VRML SPATIAL SCHEMATIC & WORLDS
UROBOROS - VR WORLDS - MULTI-MEDIA - AVATARS (1996-2012)
'UROBOROS' Spatial Schematic
by Al Razutis - Worlds in VRML 2.0
The SPATIAL SCHEMATIC is so termed as to suggest organization of worlds and things in space, according to some design, one never explained. The Schematic allows you to visit, explore, relate the various contributing elements and separately visit individual worlds (via link or VRML EMBED function).

UROBOROS was created to be experienced as a whole, but not all visitors will have the capacity to download the entire spatial creation. And not all visitors come to this site with similar backgrounds and intents. (Some are film-makers, 3D enthusiasts, or artists from various disciplines...)

Bear in mind that when you visit the separate worlds, none of the dynamic star fields or spatialized soundscapes will be present. However, you will be able to quickly access the various worlds and in a manner that may not 'test the limits' of your computer and connection.

PICTURE LINKS

(when active) take you to the VRML-EMBEDDED pages. These are MEMORY INTENSIVE pages (depending on worlds visited), and may feature multiple in-lined worlds, requiring sufficient CACHE (>60 MB) and patience during downloads.

VIEWING VRML WORLDS: These VRML 2.0 (Virtual Reality) worlds are optimized for COSMO PLAYER 2.x, or CORTONA VRML PLUG-IN or other newer X3D VIEWERS. For VRML / X3D Wiewer / free download, visit: CORTONA 3D VIEWER site. Recommended Browser: FIREFOX (Chrome no longer supports NPAPI plug-ins)

VIDEO in VRML NOTE: At present Cortona 3D supports only mpeg-4 movie maps, while these movies were originally created in mpeg-1 for VRML Cosmo or Cortona. Modification to new standard is underway.
---
LINKS TO INDIVIDUAL COMPONENT WORLDS:
'SNAKE WORLD'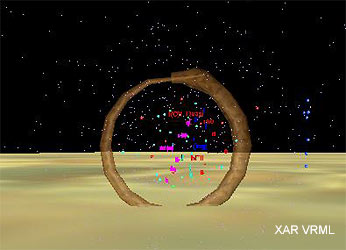 ENTRY WORLD - animation/sound - 60 Seconds
'STAIRS WORLD'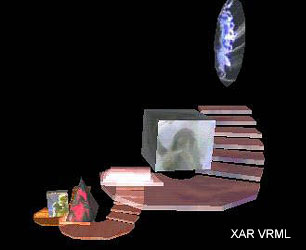 Musical stairs with motion-picture objects
'CLOUD-POEM WORLD'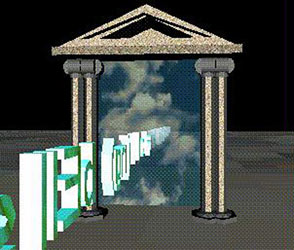 Poem in concrete and clouds
'MASTER WORLD'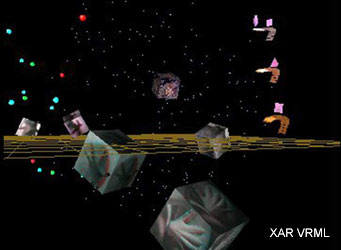 Multiple in-lined Worlds with media

'FIELDSQUARE WORLD'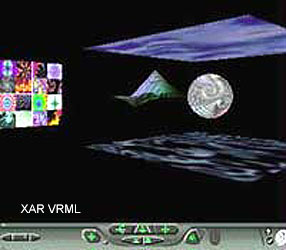 movie-fractal-holo-riddles
'TERRA FIRMA'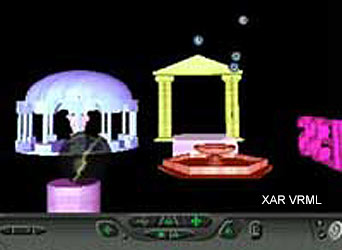 A world of ruins and statues that speak...
ANCHOR.........
'SNAKE - POEM WORLD(S)'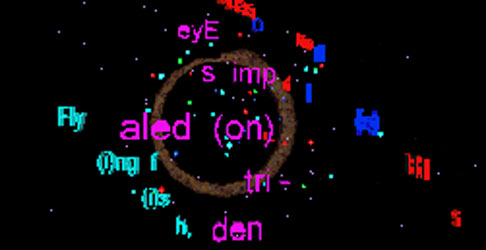 Microcosm of UROBOROS
LINKS to IMPORTANT PAGES:
TEXTS on content, design, credits, and technical viewing requirements: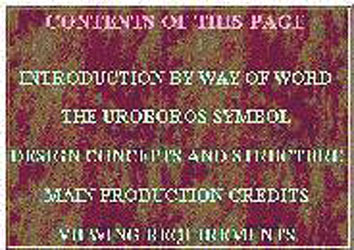 [ COSMO PLAYER 2.1/font> ] -- [ TIPS ON NAVIGATION ] -- [ FULL CREDITS ]
THE 'ALL-SEEING EYE'
...essay on vision and artifice: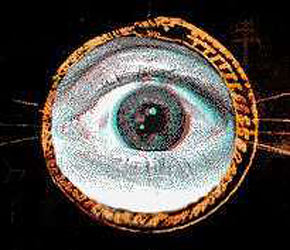 ---
Legacy VRML Worlds - Max - Poser animation in VRML 2.0/97:
1999-2000 VRML 2.0 Worlds by Al Razutis (VRML) and Deepa Ved (Poser-animations)
VRML CLIENT VIEWERS must be installed to view these contents
Legacy VRML Worlds - Avatar drive-by screens:
1997-2000 VRML 2.0/97 Worlds by Al Razutis

RELATED CREATIONS - WORLDS:
'PLACE OF THE FIRST TIME'
VRML 2.0 embedded in descriptive html page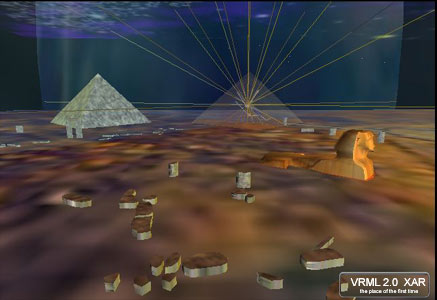 (250K plus image maps)
Contact: alrazutis@ymail.com