VRML 2.0 Worlds with Motion-Picture Texture Maps

Call it a drive-by
by Al Razutis, 1996 - 2000
'Movieworlds' refers to experimental films featuring motion-picture texture mapping of interactive (touch-click) objects-scenes in VRML space. With VRML 2.0 we entered 3D worlds with texture mappings, even movies, and motion and animations in space.
In these art projects the visitor / viewer can travel in a virtual reality 'drive-in theater' and view movies at will.
Early experiments in virtual reality 'projection screens', capable of being viewed in mono 3D or stereoscopic 3D with two world views running simultaneously, contained 3D texture maps on 3D objects. The systemic limitations of number and length of movies was determined by the Cosmo plug-in and 1997-2001 SGI rendering capabilities. Samples here are presented as legacy worlds continuing the experiment of 'what is cinema, now?'.
These VRML 2.0 (Virtual Reality) worlds are optimized for COSMO PLAYER 2.x, or CORTONA VRML PLUG-IN
or other X3D VIEWERS from the web. For a VRML / X3D Viewer / free download, visit: CORTONA 3D VIEWER site.
Recommended Browser for Plug-In: FIREFOX (Chrome no longer supports NPAPI plug-ins)
NOTE on movies in VRML: At present Cortona 3D supports only mpeg-4 movie maps,
while these movies were originally created in mpeg-1 for VRML Cosmo or Cortona.
Modification to new standard is underway.
SELECT A MOVIE WORLD IN VRML 2.0
VISIT AVATAR MALL for other selections
RELATED TOPICS in Video and HTML: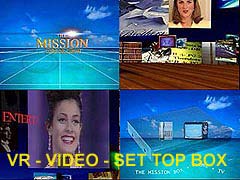 'Mission Environment'
WMV Video Clip, 1 min., 2000
More concepts & examples on
'Virtual Reality on the Web'